The Land Before Time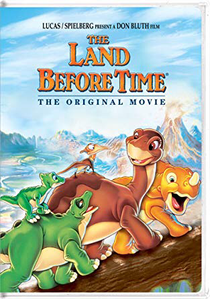 THE LAND BEFORE TIME (U)
Universal/Amblin (Don Bluth, Gary Goldman & John Pomeroy)
W: Stu Krieger [based on a story by Judy Freudberg & Tony Geiss]
voices of: Gabriel Damon (Littlefoot), Helen Shaver (Littlefoot's Mother), Candice Houston (Cera), Judith Barsi (Ducky)
With Disney animated films lying dormant during the 1980's, Don Bluth jumped in with some standard stories with some rather rudimentary animation.
This dinosaur adventure is amongst the better works from the director and his studio and generate an absolute shedload of direct-to-video sequels, but they simply can't measure up to Disney's multi-million dollar projects.
Okay for kids, quite boring for adults.
5/10