The Ladykillers (1955/2004)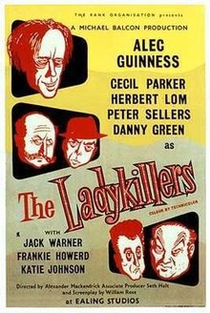 THE LADYKILLERS (U)
W: William Rose
Alec Guinness (Professor Marcus), Katie Johnson (Mrs. Wilburforce), Peter Sellers (Mr. Robinson), Cecil Parker (Maj. Courtney), Herbert Lom (Mr. Harvey) Danny Green (Mr. Lawson)
In this classic Ealing comedy, sinister-looking music professor Alec Guinness rents a room in sweet old lady Katie Johnson's house, informing her that some of his musician buddies may stop by from time to time. His real intentions are as sinister as his appearance however, as it emerges he and his friends can't play a note of music, and are using the sweet old lady unwittingly in a heist, and then plan to do away with her when she becomes a witness, which is easier said than done.
When they say "They don't make 'em like they used to", Ealing Comedies always spring to mind. Brilliantly written, directed and performed crime capers with an underlying message that "crime doesn't pay". The Ladykillers is amongst the London studio's very best.
9/10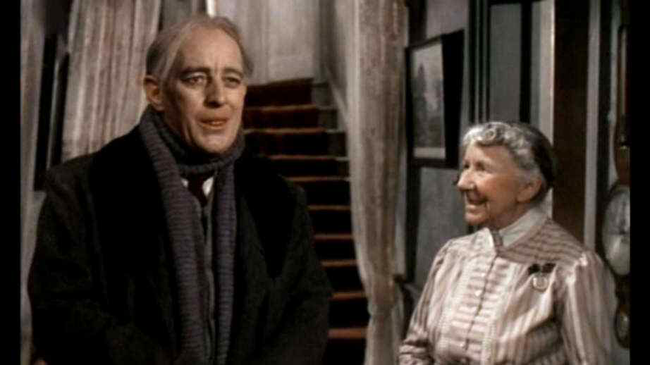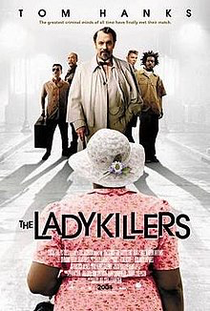 THE LADYKILLERS (15)
D: Joel Coen & Ethan Coen
Touchstone (Joel Coen, Ethan Coen, Tom Jacobson & Barry Sonnenfeld)
W: Joel Coen & Ethan Coen [based on the screenplay by William Rose]
Tom Hanks (Goldthwaite Higginson Dorr), Irma P. Hall (Marva Munson), Marlon Wayans (Gawain MacSam), J.K. Simmons (Garth Pancake), Tzi Ma (The General)
A rare off day at the office from the Coen Brothers, as they attempt and fail to remake an absolute classic.
The story varies slightly from the original Ealing comedy, updated for modern times and changing the way the crooks plan to carry out their crimes.
The performances aren't terrible but Tom Hanks simply can't match Alec Guinness' cunning brilliance in the 1950's version. 
Irma P. Hall steals the film as the old lady whose house is used for criminal means, but the film is pretty much a failure in all departments.
4/10