Loving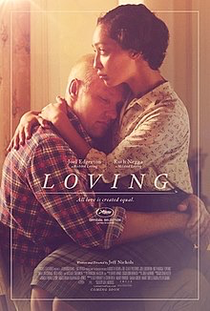 LOVING (15)
D: Jeff Nichols
Focus Features/Big Beach/Raindog (Jared Ian Goldman, Ged Doherty, Colin Firth, Nancy Buirski, Sarah Green, Marc Turtletaub & Peter Saraf)
US/UK 2016
123 mins
Drama/Biopic
W: Jeff Nichols
DP: Adam Stone
Ed: Julie Monroe
Mus: David Wingo
Joel Edgerton (Richard Loving), Ruth Negga (Mildred Loving), Marton Csokas (Sheriff Brooks), Nick Kroll (Bernie Cohen), Michael Shannon (Grey Villet)
Jeff Nichols biographical drama studies the real life case of Richard and Mildred Loving, an interracial couple whose marriage in 1950's Virginia saw them arrested and exiled from their home state.
Civil rights lawyers subsequently fought the case, taking it all the way to the US Supreme Court.
The two principal performances are excellent, especially Ruth Negga, who received an Oscar nomination for Best Actress.
Nichols takes a low-key approach to the material, without sensationalising it with Hollywood gloss. 
Certainly among the better films of 2016.
7/10