Lost Horizon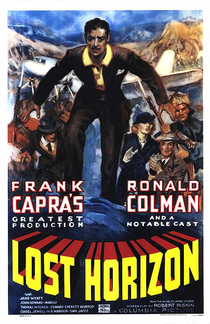 LOST HORIZON (U)
D: Frank Capra
Columbia (Frank Capra)
US 1937
133 mins
Fantasy/Drama
W: Robert Riskin [based on the novel by James Hilton]
DP: Joseph Walker
Ed: Gene Havlick & Gene Milford
Mus: Dimitri Tiomkin
PD: Stephen Goosson
Ronald Colman (Robert Conway), Jane Wyatt (Sondra Bizet), H.B. Warner (Chang), Sam Jaffe (High Lama), John Howard (George Conway), Edward Everett Horton (Alexander P. Lovett)
A lost movie, since the original theatrical cut was not preserved and the closest thing to it now is a heavily edited version or one which utilises production stills and a remastered soundtrack to fill in the gaps.
The story, based on a novel by James Hilton, concerns a group of people who flee a Chinese revolution by plane only to crash land in Tibet, only to discover the idyllic civilisation of Shangri-La, where the weather is always pleasant and the inhabitants live in peaceful harmony.
From an artistic perspective, the film is quite wonderful, utilising brilliant cinematography, production design and visual effects to tell a story which would have been incredibly difficult to film as far back as 1937.
Unfortunately, it could also be said that Lost Horizon was a huge flop during its cinema run, failing to recoup its budget for many years following its original release. That being said, many of Frank Capra's films were unappreciated at the time, and only became hailed as the classics they are several years later.
1973 saw a bizarre musical remake released. Avoid that version at all costs.
8/10