Look Who's Talking (1 & 2)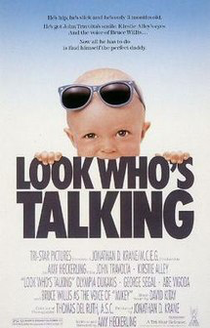 LOOK WHO'S TALKING (12)
Columbia Tristar (Jonathan D. Crane)
John Travolta (James), Kirstie Alley (Mollie), Olympia Dukakis (Rosie), George Segal (Albert), Abe Vigoda (Grandpa), Bruce Willis (voice of Mikey)
One of the most successful movies of 1989 is pretty much a one-gimmick, one joke movie in which a newborn baby's thoughts are vocalised by Bruce Willis.
It gave John Travolta a comeback role after a decade of flops and also provided Kirstie Alley with her first big screen success after her work in the TV series Cheers.
Enjoyable enough for the duration, but it really isn't a classic.
6/10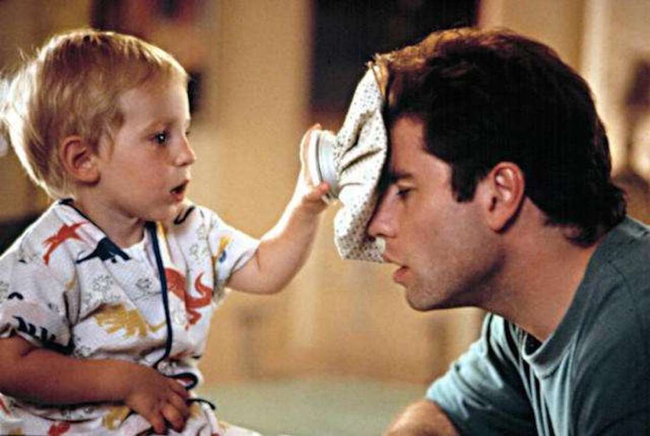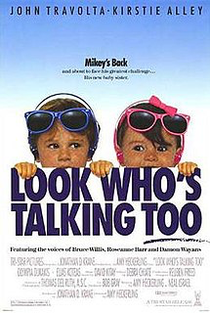 LOOK WHO'S TALKING TOO (12)
Columbia Tristar (Jonathan D. Crane)
W: Amy Heckerling & Neal Israel
John Travolta (James), Kirstie Alley (Mollie), Olympia Dukakis (Rosie), Elias Koteas (Stuart)
voices of: Bruce Willis (Mikey), Roseanne Barr (Julie), Damon Wayans (Eddie), Mel Brooks (Mr. Toilet Man)
Since the first film was such a massive hit, a sequel was inevitable. This, however, feels rushed into production with a mediocre script and recycled jokes.
Baby Mikey is now in pre-school and is still voiced by Bruce Willis and now has a younger sister whose thoughts are narrated by Roseanne Barr.
If you find that premise amusing, then you may enjoy the film, if not, it's best avoided.
Another sequel, Look Who's Talking Now, emerged in 1993, this time with talking dogs. The phrase "flogging a dead horse" has never felt so apt.
4/10