Logan Lucky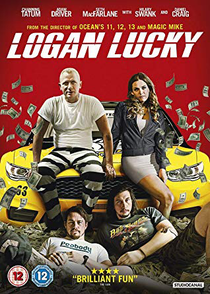 LOGAN LUCKY (12)
D: Steven Soderbergh
Filmnation/Bleeker Street/Fingerprint (Gregory Jacobs, Mark Johnson, Reid Carolin & Channing Tatum)
US 2017
119 mins
Crime/Comedy
W: Rebecca Blunt
DP: Peter Andrews
Ed: Mary Ann Bernard
Mus: David Holmes
Channing Tatum (Jimmy Logan), Adam Driver (Clyde Logan), Daniel Craig (Joe Bang), Riley Keough (Mellie Logan), Katherine Waterston (Sylvia Harrison), Seth MacFarlane (Max Chilblain), Sebastian Stan (Dayton White), Katie Holmes (Bobbie Jo Chapman)
Oceans Eleven meets Days Of Thunder for this crime caper set in West Virginia, where a pair of brothers, Jimmy and Clyde Logan, hatch a plan to pull off a heist during a NASCAR race, utilising Jimmy's knowledge of the underground tubes which carry money to the vault. 
For the plan to be a success, they require the help of incarcerated explosions expert Joe Bang, so we also get a prison break plot device to go along with the heist.
Despite having a rather poor title, the screenplay is good, as are the majority of the performances, especially from Channing Tatum, Adam Driver and Daniel Craig (Katie Holmes and Seth MacFarlane unfortunately drop the ball here). There's a couple of plot holes which might bother you if you allow them to, and a few characters are introduced for very little reason, but this is only nitpicking. 
Steven Soderbergh came out of a short retirement to take the reins on this movie, releasing it through his own distribution company. On this evidence, let's hope his filmmaking career continues on.
7/10