Lock, Stock & Two Smoking Barrels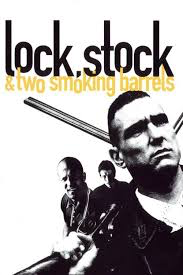 LOCK, STOCK & TWO SMOKING BARRELS (18)
Polygram/SKA (Matthew Vaughan)
W: Guy Ritchie
Nick Moran (Eddy), Jason Flemyng (Tom), Dexter Fletcher (Soap), Jason Statham (Bacon), Steven Mackintosh (Winston), Vinnie Jones (Big Chris), Sting (JD), Lenny McLean (Barry the Baptist)
For better or worse, Guy Ritchie's directorial debut rejuvenated the British gangster film and inspired an entire generation of films in its wake.
A young Londoner finds himself public enemy of the wrong sort after losing everything in a rigged poker game and with his friends, turns to robbery in order to pay off the debt, including the theft of a pair of antique pistols which they attempt to sell back to the owner they unknowingly stole them from.
Ritchie brings much style, intelligence and farcical comedy to his film, as well as a fantastic soundtrack and a brilliant cliffhanger ending with a wink & a nod to the all-time classic cockney crime caper, The Italian Job (qv).
8/10