Little Women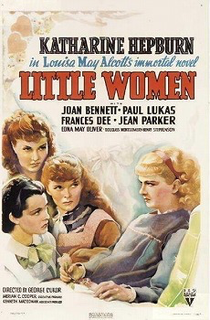 LITTLE WOMEN (U)
D: George Cukor
RKO Radio/Selznick (Merian C. Cooper)
US 1933
117 mins
Drama/Romance
W: Victor Heerman & Sarah Y. Mason [based on the novel by Louisa May Alcott]
DP: Henry W. Gerrard
Ed: Jack Kitchin
Mus: Max Steiner
Katharine Hepburn (Jo March), Joan Bennett (Amy March), Frances Dee (Meg March), Jean Parker (Beth March), Spring Byington (Marmee March), Paul Lukas (Prof. Bhaer), Douglas Montgomery (Theodore Laurence)
George Cukor's 1933 version of Little Women was the third translation of Louisa May Alcott's classic novel to the big screen, although it may as well be considered the first now, since the silent films released in 1917 and 1918 are considered lost, and highly unlikely to be seen again.
A solid cast ensemble portray the March girls and supporting characters, as the story follows a group of young women and their experiences in life and love as they come of age during the tail end of the Civil War.
The film is all quite stagey, which is understandable considering when it was made, and the age of the film really does show. Despite this, it was a fine production for the early 1930's, and its success proved to Hollywood studios that there was a market for female led films, paving the way for Gone With The Wind's production just a few years later.
Some may call this the quintessential version of Alcott's novel, but the remakes are equally as good.
7/10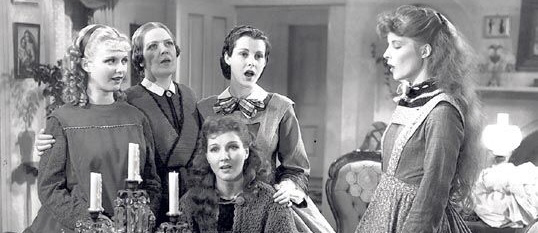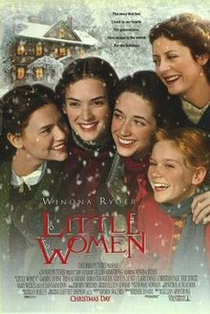 LITTLE WOMEN (PG)
Columbia Tristar (Denise di Novi)
W: Robin Swicord [based on the novel by Louisa May Alcott]
Mus: Thomas Newman
Cos: Colleen Atwood
Winona Ryder (Jo March), Susan Sarandon (Marmee March), Gabriel Byrne (Prof. Friedrich Baer), Eric Stoltz (John Brooke), Samantha Mathis (Amy), Trini Alvarado (Meg), Kirsten Dunst (Amy - 12 years old), Claire Danes (Beth), Christian Bale (Laurie)
Louisa May Alcott's literary classic about the relationships between the March sisters is remade again for the 1990's generation, true to its literary roots, but starring a host of names who would have been notably famous around the time of production.
The production values and performances are generally good, but it doesn't do enough to change the consensus that the 1933 film version is considered the classic adaptation of the work. All in all, this is a little too televisual and safe, despite having very good elements about it such as the costumes and music score. However, I will admit that I watched this a long time ago, when I was probably a little too young to appreciate it.
6/10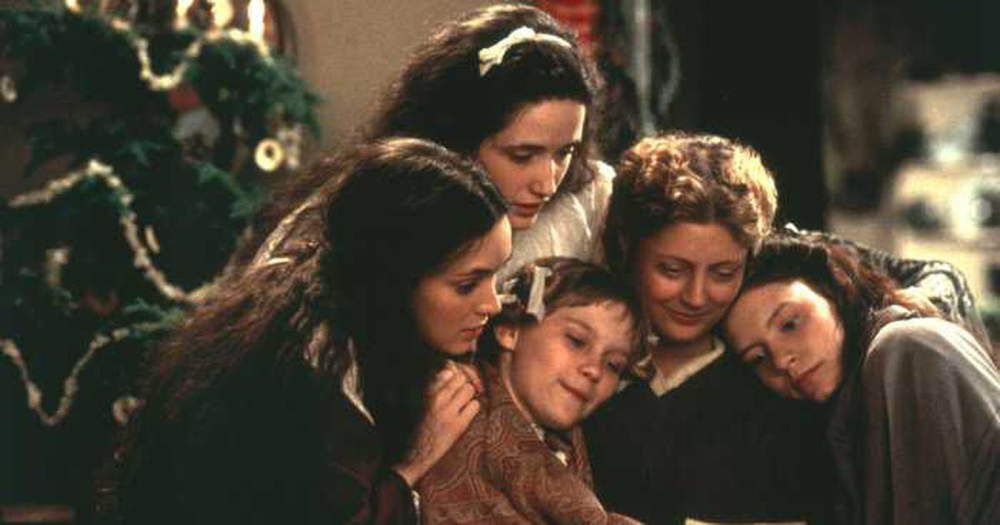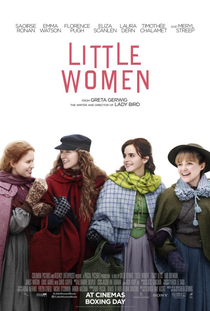 LITTLE WOMEN (U)
D: Greta Gerwig
Sony/Columbia/Regency (Amy Pascal, Denise di Novi & Robin Swicord)
US 2019
135 mins
Drama/Romance
W: Greta Gerwig [based on the novel by Louisa May Alcott]
DP: Yorick Le Saux
Ed: Nick Houy
Mus: Alexandre Desplat
PD: Jess Gonchor
Cos: Jacqueline Durran
Saoirse Ronan (Jo March), Florence Pugh (Amy March), Emma Watson (Meg March), Eliza Scanlen (Beth March), Laura Dern (Marmee March), Timothee Chalamet (Theodore Laurence), Meryl Streep (Aunt March), Tracy Letts (Mr. Dashwood)
Like so many classic literary works, it could be said that Little Women sees an adaptation for each generation. In fact, this is the 7th screen incarnation of Louisa May Alcott's novel, not including works made exclusively for television or any stage adaptations.
Greta Gerwig directed and penned the screenplay, and it's clear to see that the source material meant a lot to her as she translates the story for a 21st Century audience.
The plot follows a family of sisters growing up in New England at the tail end of the Civil War, with the primary focus on Jo March, an aspiring writer who isn't taken seriously due to being female, at a time when women were merely expected to marry well and raise a family.
Greta Gerwig and her production team do an excellent job here recreating the period, with huge accomplishments in the set design, costumes and cinematography, and the performances from the ensemble are great, particularly Saoirse Ronan and Florence Pugh. It's also noted that the film didn't cram identity and social justice politics in a ham-fisted way like so many films have during 2018-19. It has a feminist message that it gets across and does it well, without talking down to the audience or writing every single male character as one-dimensional or chauvinistic.
My only criticisms come from the non-linear narrative structure, as the flashback scenes aren't quite as clear as they could have been, and it's a gimmick that the film really didn't need. I also never cared for the character of Theodore Laurence in the previous version of the film and my mind hasn't changed with this portrayal (by Timothee Chalamet).
Despite these small issues, it's a fine piece of filmmaking and a genuinely lovely film, full of pleasantly heartwarming moments as well as a handful of scenes which evoke a few tears.
Much preferred to the 1994 version.
7/10