Little Shop of Horrors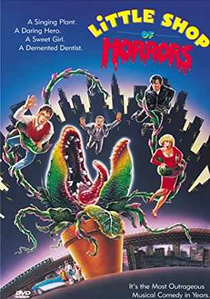 LITTLE SHOP OF HORRORS (PG)
Warner Bros. (David Geffen)
W: Howard Ashman [based on his play]
Ed: John Jympson, Derek Trigg & Bob Gavin
Mus: Miles Goodman; Alan Menken & Howard Ashman
PD: Roy Walker
Rick Moranis (Seymour Krelboin), Ellen Greene (Audrey), Vincent Gardenia (Mushnik), Steve Martin (Orin Scrivello), John Candy (Wink Wilkinson)
Considering the musical genre was very much out of favour during the mid-1980's, Little Shop Of Horrors did a good job to both find an audience and return a healthy profit on it's release.
Based on a stage musical reworked from Roger Corman's 1960 low-budget horror it stars Rick Moranis as a timid florist who discovers an alien plant which needs to feed off human blood in order to survive, but as the plant begins to grow, so does it's thirst.
Some of the musical numbers are throwbacks to the 1930's Broadway style with a unique comedy twist and the special effects are absolutely fantastic.
7/10