Lion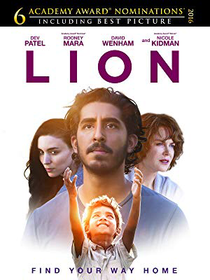 LION (PG)
D: Garth Davis
The Weinstein Company/Screen Australia/See-Saw (Iain Canning, Emile Sherman & Angie Fielder)
UK/Australia 2016
118 mins
Drama/Biopic
W: Luke Davies [based on the book "A Long Way Home" by Saroo Brierley & Larry Buttrose]
DP: Greig Fraser
Ed: Alexandre de Franceschi
Mus: Dustin O'Halloran & Hauschka
Dev Patel (Saroo Brierley), Rooney Mara (Lucy), Nicole Kidman (Lucy Brierley), David Wenham (John Brierley), Sunny Pawar (Young Saroo)
Lion is the true biographical story of Saroo Brierley, a lost five year old boy on the streets of Calcutta, a thousand miles from his small village on the other side of India. Unable to speak the local Bengali dialect or even pronounce his mother's name or home village properly, he is taken into an orphanage and subsequently adopted by an Australian couple, who take him back to Hobart, Tasmania.
Twenty years later, with the aid of Google Earth, he discovers the location of his village and embarks on a journey to be reunited with his biological family.
The plot does share some similarities with Slumdog Millionaire, especially in the first act, but this is much more than Oscar bait. Dev Patel is excellent as an adult Saroo Brierley and Nicole Kidman also deserves praise for her performance as his adoptive mother. Another star of the movie is the beautifully haunting music, composed by Dustin O'Halloran and Hauschka. 
Certainly amongst the top ten best films of 2016.
8/10