Limelight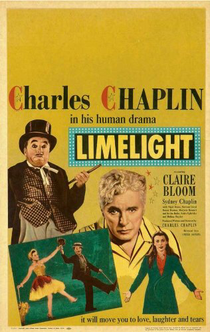 LIMELIGHT (U)
D: Charles Chaplin
United Artists (Charles Chaplin)
US 1952
144 mins
Drama/Comedy
W: Charles Chaplin
DP: Karl Strauss
Ed: Joe Inge
Mus: Charles Chaplin, Raymond Rasch & Larry Russell
Charles Chaplin (Calvero), Claire Bloom (Thereza Ambrose), Nigel Bruce (Postant), Buster Keaton (Calvero's Partner), Sydney Earl Chaplin (Ernest Neville), Norman Lloyd (Bodalink), Marjorie Bennett (Mrs. Alsop)
Though produced and funded in the United States, Limelight was met with blackout when it was originally slated for release in 1952, mostly due to Chaplin's political stance on communism. It was finally given widespread US release in 1972, thus becoming eligible for the 45th Academy Awards, where it won Chaplin his only competitive Oscar in the Best Original Score category.
The film itself is quite obviously biographical, set in London's East End, where a washed up music hall comedian saves the life of a young ballerina and the two form a relationship which gives them both hope of realising their dreams of fame.
Chaplin very much plays an older version of the usual character for which he became famous, and Claire Bloom is excellent as the young ingenue. 
It's not quite the best work of Charlie Chaplin's illustrious career, but it's a film which certainly sums it up, as he gracefully hands the spotlight to a younger generation.
8/10