Lifeboat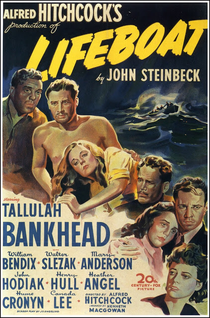 LIFEBOAT (PG)
D: Alfred Hitchcock 
20th Century Fox (Kenneth MacGowan)
US 1944
96 mins
Drama/War
W: Jo Swerling & John Steinbeck
DP: Glen MacWilliams
Ed: Dorothy Spencer
Mus: Hugo Friedhofer
Tallulah Bankhead (Constance Porter), William Bendix (Gus), Walter Slezak (The German), Mary Anderson (Alice), John Hodiak (Kovak), Henry Hull (Rittenhouse), Hume Cronyn (Stanley Garrett), Heather Angel (Mrs. Higgins)
One of Alfred Hitchcock's lesser works, although on craft alone it deserves to be held in the same regard as his finest works.
In the midst of World War II, the survivors of a torpedoed passenger ship amass on a cramped lifeboat as they drift amongst the flotsam. 
The survivors include a vast range of characters, from a fashionable socialite to the U-boat commander responsible for their plight.
Based on a story by John Steinbeck, the film and its director do an excellent job bringing tension to a single location, helped no end by the performance of the ensemble cast.
The film has since been considered a propaganda gimmick, which is completely unfair. It's a wonderfully crafted film, with excellent production values for its age.
7/10