Life of Pi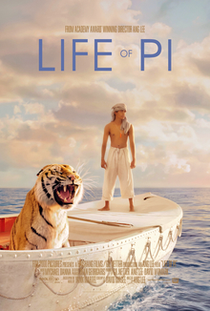 LIFE OF PI (12)
D: Ang Lee
20th Century Fox/Fox 2000 (Ang Lee, Gil Netter & David Womark)
W: David Magee [based on the novel by Yann Martel]
DP: Claudio Miranda
Mus: Mychael Danna
PD: David Gropman
Suraj Sharma (Pi Patel - aged 16), Irrfan Khan (Pi Patel - adult), Tabu (Gita Patel), Adil Hussain (Santosh Patel). Rafe Spall (Yann Martel), Gerard Depardieu (The Cook)
An Indian man recalls an event from his childhood, when he lost his family in a shipwreck and drifted to shore on a lifeboat shared with a collection of wild animals.
There's no denying that some of the visuals were stunning and the tiger effects were meticulously crafted, but the story almost had me catching zeds. Not that it was boring, it just didn't stir me the way I thought it would and just seemed like a shaggy dog fable about faith, religious beliefs and spiritual mumbo-jumbo. This isn't necessarily a bad thing, but will certainly be appreciated more by those with a similar outlook rather than those who don't.
Whole thing's considered: if I'm ever shipwrecked, I'd rather have a volleyball called Wilson as a companion than a tiger named Richard Parker.
8/10