Leon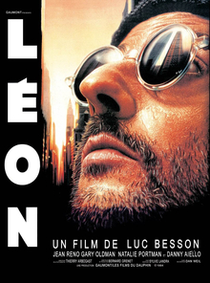 LEON (aka THE PROFESSIONAL) (18)
D: Luc Besson
Gaumont/Dauphin (Luc Besson)
Jean Reno (Leon Montana), Gary Oldman (Norman Stansfield), Natalie Portman (Mathilda Lando), Danny Aiello (Tony)
1994's cult hit, Leon (aka The Professional) saw a star-making lead performance from Jean Reno, whose career unfortunately never quite took off the way his supporting lady's did.
After her parents are brutally murdered by corrupt police officers, Mathilda (Natalie Portman) takes refuge at her neighbours, who happens to be a professional assassin.
The two develop a deep friendship, almost becoming a little too inappropriate, while he teaches her the art of the kill and she teaches him how to be more human.
The two central performances are outstanding and Luc Besson's focused direction is excellent. Gary Oldman wildly overacts as the villainous police chief, but some may say it's his performance which steals the movie.
8/10