Legally Blonde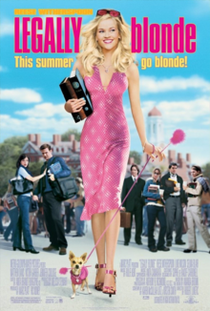 LEGALLY BLONDE (12)
20th Century Fox/MGM (Marc Platt & Ric Kidney)
W: Karen McCullah Lutz & Kirsten Smith [based on the novel by Amanda Brown]
Ed: Anita Brandt Burgoyne & Garth Craven
Reese Witherspoon (Elle Woods), Luke Wilson (Emmett Richmond), Selma Blair (Vivian Kensington), Matthew Davis (Warner Huntington), Victor Garber (Prof. Callahan), Jennifer Coolidge (Paulette Bonafonte), Holland Taylor (Prof. Stromwell), Ali Larter (Brooke Taylor-Windham)
Dumb fun for the young and young at heart. Ditzy blonde Reese Witherspoon fears her boyfriend will lose interest in her when he enrols at a prestigious law school, so she follows suit and finds this courtroom malarkey an absolute doddle.
The screenplay is perfectly tailored for its star, who has great fun with the role and makes it thoroughly enjoyable, really playing on the misnomer that all blondes are brainless bimbos.
A disappointing sequel followed.
6/10