Left Behind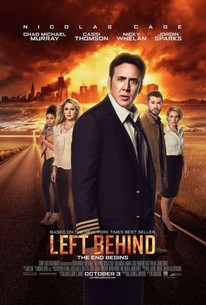 LEFT BEHIND (15)
Freestyle/Entertainment One (Michael Walker & Paul LaLonde)
Thriller/Science Fiction/Religious
W: Paul LaLonde & John Patus [based on the book by Tim LaHaye & Jerry B. Jenkins]
Nicolas Cage (Rayford Steele), Cassi Thompson (Chloe Steele), Chad Michael Murray (Cameron Williams), Nicky Whelan (Hattie Durham), Jordin Sparks (Shasta Carvell), Lea Thompson (Irene Steele)
Most apocalyptic disaster films are a little insulting on the intelligence, but Left Behind is in a league all of its own. 
Nicolas Cage plays an adulterous airline pilot who needs to avert crisis when a huge percentage of passengers and crew disappear mid-flight. Meanwhile, his daughter roams the riot hit cities and secluded suburbs searching for answers and discovers that it is the rapture, a biblical event where only those without sin are saved from the apocalypse.
Incompetently directed, lazily performed and scripted more like a church sermon than anything profound or meaningful, this pathetic excuse for cinema is akin to having a bible shoved down your throat.
Even without the New Age Christian mumbo-jumbo, it's simply a film about a man trying to land a plane.
One of the worst films ever made, not even bothering to include vital elements like suspense or tension. Hopefully plans for a sequel are also left behind.
1/10