Leaving Las Vegas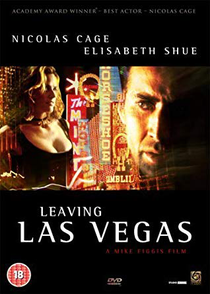 LEAVING LAS VEGAS (18)
D: Mike Figgis
Lumiere (Lila Cazes & Annie Stewart)
W: Mike Figgis [based on the novel by John O'Brien]
Nicolas Cage (Ben Sanderson), Elisabeth Shue (Sera), Julian Sands (Yuri)
Mike Figgis' downbeat drama of loss and desperation against the dizzying neon jungle of Las Vegas is not a cheerful watch, in fact, you'd be forgiven for calling it downright depressing, but due to the power of the excellent leading performances, the British writer/director delivers a heart-achingly bittersweet love story.
Losing his job due to alcoholism, Ben (Nicolas Cage) drives from the glamour of Hollywood to a sordid motel in Las Vegas to go on one final binge session and drink himself into oblivion. What he doesn't bank on is meeting hooker with a heart of gold, Sera (Elisabeth Shue), who is suffering her own occupational and personal troubles.
The two lost souls embark on a love affair which they both know is doomed, but cannot prevent themselves from the bond growing between them.
Filmed on grainy 16mm to give it a raw look, this low budget independent was named Best Film of 1995 by both the New York & Los Angeles Film Critics Awards, winning an Oscar for its leading man, who despite his reputation for wild-eyed overacting, remains solemn, subtle and understated for an accurate portrayal of a man whose life has fallen apart due to alcoholism. 
9/10