Leave No Trace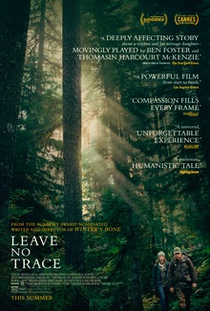 LEAVE NO TRACE (12)
D: Debra Granik
Bleeker Street/Bron/Topic/Still Rolling (Anne Harrison, Linda Reisman & Anne Roselini)
USA 🇺🇸 2018
109 mins
Drama
W: Derek Granik & Anne Roselini [based on the novel "My Abandonment" by Peter Rock]
DP: Michael McDonough
Ed: Jane Rizzo
Mus: Dickon Hinchliffe
Ben Foster (Will), Thomasin Harcourt McKenzie (Tom), Jeff Kober (Mr. Walters), Dale Dickey (Dale)
Leave No Trace tells the story of Will, a veteran father suffering from PTSD, who lives in the forest with his teenage daughter (Tom), where they have adjusted to their surroundings away from society.
They are discovered by police officers and taken into social services, who rehouse them on a farm which specialises in Christmas trees where Will can work and Tom can go to school. 
While Tom settles into her new life with relative ease, Will struggles and wants to return to their woodland camp. 
This domestic drama has a very interesting opening, but a little slack in the middle does make the narrative drag a little. Still, the two main performances are excellent, especially from Thomasin Harcourt McKenzie with a star-making turn. It's actually criminal that she didn't receive more recognition during awards season. Powerful and poignant, it's a film which should have received a little more attention during its cinematic run, but unfortunately went under the radar for a lot of people- myself included.
7/10