Last Action Hero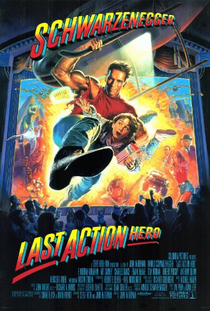 LAST ACTION HERO (15)
Columbia Tristar (Steve Roth & John McTiernan)
W: Shane Black & David Arnott
Arnold Schwarzenegger (Jack Slater / himself), Austin O'Brien (Danny Madigan), F. Murray Abraham (John Practice), Charles Dance (Benedict), Art Carney (Frank Slater), Bridgette Wilson (Whitney Slater / Meredith Caprice), Frank McRae (Lt. Dekker), Tom Noonan (The Ripper / himself), Mercedes Ruehl (Irene Madigan)
The Last Action Hero appears to be a movie in-joke which nobody else beyond the cast & crew seem to be in on. 
A teenage boy acquires a magic movie ticket when he goes to see the latest film from his action movie idol and, quite literally, gets blown into the action and the film becomes a reality. Things turn upside down when the movie bad guy goes the other way and hides out in the real world.
Even with the A-list star Schwarzenegger above the title, the film was a massive flop in 1993 and is still much derided. 
There's one or two moments which raise a smile, but aside from that, it has little else going for it.
4/10