Lars & The Real Girl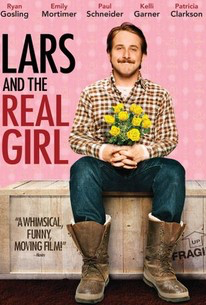 LARS & THE REAL GIRL (15)
MGM (Sidney Kimmel, John Cameron & Sarah Aubrey)
W: Nancy Oliver
Ryan Gosling (Lars Lindstrom), Emily Mortimer (Karin Lindstrom), Paul Schneider (Gus Lindstrom), Kelli Garner (Margo), Patricia Clarkson (Dagmar Berman)
An offbeat and bittersweet tale of a reclusive man who suffers from deep-rooted, withdrawn emotional problems and orders an "adult doll" on the Internet as a female companion and has delusions that she's real.
Misunderstood by his brother and his wife, they take him to a psychologist where he starts to make progression from a withdrawn, lonely man into a more social, 'normal' person. 
In a way, it's a strange movie, but it's also clever how the inanimate Bianca grows as a character so she almost seems like a real person and the other characters in the movie develop more humanity as the film goes along, making the whole story a bit of an allegory about maturing into adulthood.              
Ryan Gosling and the supporting cast are all excellent and the screenplay is very clever and has some genuine sweet, intelligent and funny moments.
7/10