La Strada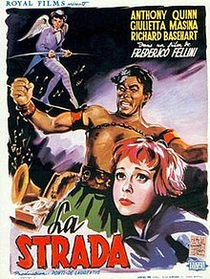 LA STRADA (PG)
D: Federico Fellini
Trans Lux (Carlo Ponti & Dino de Laurentiis)
Italy 1954
94 mins
Drama
W: Federico Fellini, Ennio Flaiano & Tullio Pinelli
DP: Otello Martelli
Ed: Leo Cattozo
Mus: Nino Rota
Giulietta Masina (Gelsomina), Anthony Quinn (Zampano), Richard Basehart (Il Matto), Aldo Silvani (Signor Giraffa), Marcella Rovere (La Vedova)
Literally translating as The Road, La Strada is an Italian arthouse drama which made Federico Fellini a renowned filmmaker in world cinema.
Anthony Quinn plays brutish strongman Zampano, who takes the timid Gelsomina on his travels where he earns a trade as a street performer, herself playing the part of a clown and his assistant.
The pair later find themselves within the company of a travelling circus, but Zampano's jealousy gets the better of him when Gelsomina becomes friends with the troupe's fool.
Fellini's film is crammed with mythological references and is considered by many filmmakers to be hugely influential to their own careers. Though the plot is thin, its given a huge canvas by Fellini's style and the brilliant performances, especially Giulietta Masina who says more with her facial expressions than in her limited dialogue.
8/10