La Dolce Vita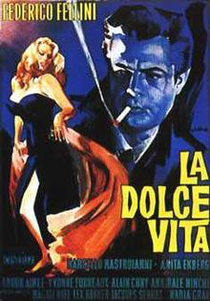 LA DOLCE VITA (15)
D: Federico Fellini
Riama/Pathé/Gray (Giuseppe Amato & Angelo Rizzoli)
W: Federico Fellini, Ennio Flaiano, Tullio Pinelli & Brunello Rondi
PD: Piero Gherardi
Cos: Piero Gherardi
Marcello Mastroianni (Marcello Rubini), Anita Ekberg (Sylvia), Anouk Aimee (Maddalena), Yvonne Furneaux (Emma), Magali Noel (Fanny), Alain Cuny (Steiner)
Marcello Mastroianni is the epitome of Italian cool in Federico Fellini's spotlight on the world of glitz and glamour in the high society of 1960's Rome.
Paparazzi journalist Marcello Rubini begins to live his life as a celebrity when he mixes with other people of status, equally bewitched and repulsed by the lifestyle. 
One tiny criticism is that the film is a mite overlong at three hours, but an important and iconic piece of world cinema and arguably Federico Fellini's finest film of a hugely successful career.
8/10