L.A. Story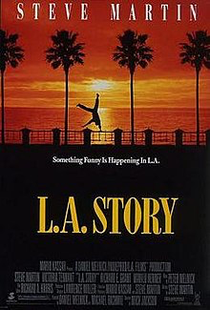 L.A. STORY (12)
Tristar/Carolco/StudioCanal (Daniel Melnick & Michael Rachmil)
Steve Martin (Harris K. Telemacher), Victoria Tennant (Sara McDowel), Richard E. Grant (Roland Mackey), Marilu Henner (Trudi), Sarah Jessica Parker (SanDeE)
Steve Martin began to lose his appeal at the beginning of the 1990's, but L.A. Story is still a rather enjoyable fable.
He plays a wacky TV weatherman who, after breaking down on a freeway, receives instructions from a roadside traffic sign of actions he needs to take in his own life. Following these, he meets and falls in love with an English journalist and also has an affair with a hip, younger woman who goes by the name of SanDeE (sic).
This light-hearted Capra-esque caper doesn't quite know what kind of comedy to go along with, traipsing between whimsical fable, slapstick and satire, so the humour isn't quite consistent throughout the whole film. Martin's vivaciousness still makes it entertaining, although the film's main love affair is with Los Angeles itself.
6/10