L.A. Confidential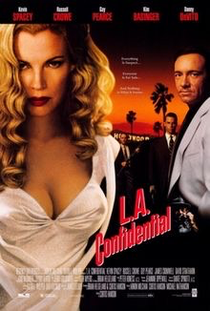 L.A. CONFIDENTIAL (18)
D: Curtis Hanson
Warner Bros./Regency (Arnon Milchan, Curtis Hanson & Michael Nathanson)
W: Brian Helgeland & Curtis Hanson [based on the novel by James Ellroy]
DP: Dante Spinotti
Ed: Peter Honess
Mus: Jerry Goldsmith
Pd: Jeannine Oppewall
Guy Pearce (Ed Exley), Kevin Spacey (Jack Vincennes), Russell Crowe (Wendell 'Bud' White), James Cromwell (Dudley Smith), David Strathairn (Pierce Patchett), Kim Basinger (Lynn Bracken), Danny DeVito (Sid Hudgens)
A film noir for the 1990's, brilliantly adapted from James Ellroy's novel, which in itself is a fantastic read.
In 1950's Los Angeles, amongst the glitz and glamour of Hollywood, a by-the-book, industrious detective uncovers corruption with his department and enlists the help of a suave vice detective and a brutish cop to investigate.  
L.A. Confidential is amongst the best films of the decade, with a rich accolade of characters and a labyrinthine narrative which always keeps you second guessing. It won two Oscars for Screenplay & Supporting Actress (Basinger). In any other year, it would most likely have swept the board (Some may even argue this was a much more worthy winner than Titanic).  
10/10