A League of Their Own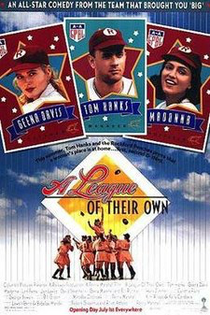 A LEAGUE OF THEIR OWN (PG)
Columbia/Parkway (Robert Greenhut & Elliott Abbott)
W: Lowell Ganz & Babaloo Mandel [based on a story by Kim Wilson & Kelly Candaele] 
Geena Davis (Dottie Hinson), Tom Hanks (Jimmy Dugan), Lori Petty (Kit Keller), Madonna (Mae Mordabito), Rosie O'Donnell (Doris Murphy), Jon Lovitz (Ernie Capadino), David Strathairn (Ira Lowenstein), Bill Pullman (Bob Hinson)
This film markets itself as a comedy, but it isn't, it's a drama, and an overly sentimental one at that, saved by Geena Davis' leading performance (and to a lesser extent, Tom Hanks portrayal as the boozy coach).
Set during the WWII years, when the men's American baseball league was put on ice and it was down to women to hit home runs and steal second base.
The film proves its point that women are just as capable as athletic activity as their male counterparts, but it all feels irrelevant since women's baseball never caught on in post-war times.
It also could have been a little better if actresses who could actually act were cast in the Rosie O'Donnell and Madonna roles.
7/10