The King's Speech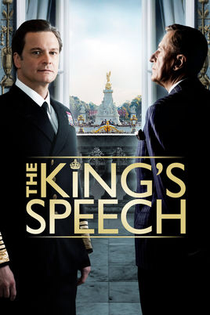 THE KING'S SPEECH (12)
D: Tom Hooper
The Weinstein Company/UK Film Council/See Saw/Bedlam (Iain Canning, Emile Sherman & Gareth Unwin)
W: David Seidler
DP: Danny Cohen
PD: Eve Stewart
Cos: Jenny Beavan
Colin Firth (King George VI), Geoffrey Rush (Lionel Logue), Helena Bonham-Carter (Queen Elizabeth), Guy Pearce (Edward VIII), Timothy Spall (Winston Churchill), Derek Jacobi (Cosmo Lang), Jennifer Ehle (Myrtle Logue), Michael Gambon (George V)
This biopic of King George VI focuses on his ascendancy to the throne after the abdication of Edward VIII and sees him overcome a stutter to deliver a passionate speech to the country on the Eve of the Second World War.
What gives this drama such raw emotional power is not just the excellent performance of lead actor Colin Firth, but the relationship between him and his speech therapist, played with gusto by Geoffrey Rush. 
The screenplay may feel as though the subject would work better as a stage play, but as a film it's still an exemplary piece of work, winning the 2010 Oscar for Best Picture.
8/10