The King of Comedy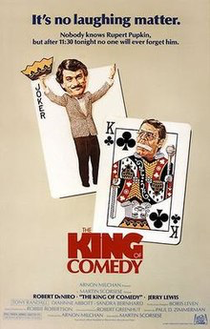 THE KING OF COMEDY (15)
D: Martin Scorsese 
20th Century Fox/Embassy (Arnon Milchan) 
W: Paul Zimmerman
Robert DeNiro (Rupert Pupkin), Jerry Lewis (Jerry Langford), Diahnne Abbott (Rita), Sandra Bernhard (Masha)
The King Of Comedy is one of the lesser known collaborations between director Martin Scorsese and actor Robert DeNiro, but is every bit as good as the more popular partnerships (Goodfellas, Raging Bull, etc).
DeNiro stars as Rupert Pupkin, an oddball so obsessed with becoming the world's most famous comedian that he begins to stalk his idol, late night talk show host Jerry Langford (Jerry Lewis), even going as far as kidnapping him.
One of the best films of 1983 and ample proof that its director can tackle black comedy as well as gangster movies and biopics.
8/10