The King & I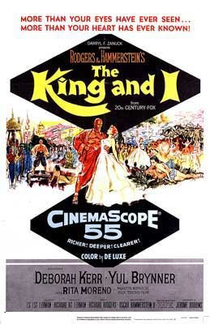 THE KING & I (U)
D: Walter Lang
20th Century Fox (Charles Brackett)
US 1956
144 mins
Musical
W: Ernest Lehman [based on the musical by Richard Rodgers & Oscar Hammerstein II]
DP: Leon Shamroy
Ed: Robert L. Simpson
Mus: Alfred Newman & Ken Darby
PD: Lyle Wheeler & John de Cuir
Cos: Irene Sharaff
Deborah Kerr (Anna Leonowens), Yul Brynner (King Mongkut of Siam), Rita Moreno (Tuptim), Terry Saunders (Lady Thiang), Martin Benson (Kralahome), Rex Thompson (Louis Leonowens)
One of the most accessible Rodgers & Hammerstein musicals (along with The Sound Of Music), adapted initially from Margaret Landon's novel 'Anna & The King of Siam' for the stage version, prior to this big screen adaptation.
Deborah Kerr plays the uptight school teacher Anna Leonowens, who is a guest of King Mongkut to teach his children in 1860's Siam (Thailand). 
The culture clash is apparent for both characters as East meets West and each of the main characters personifying this.
There's many an iconic scene, especially some of the song and dance numbers and Yul Brynner's performance earned him a Best Actor Oscar.
Some aspects haven't dated so well, particularly the technicolor cinematography and some controversial elements in the story that some have seen as culturally offensive.
Still, it's one of the better musicals from the genre's Golden Age and my personal favourite film of 1956.
8/10