The Killing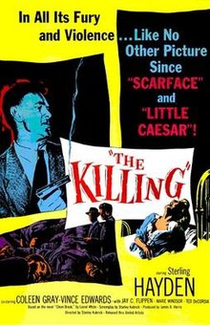 THE KILLING (15)
United Artists (James B. Harris)
W: Stanley Kubrick & Jim Thompson [based on the novel "Clean Break" by Lionel White]
Sterling Hayden (Johnny Clay), Coleen Gray (Fay), Vince Edwards (Val Cannon), Jay C. Flippen (Marvin Unger), Marie Windsor (Sherry Peatty)
Early Stanley Kubrick, though it features flourishes of the perfectionist touch of which the director had become accustomed.
An ex-convict enlists the help of others so he can execute a robbery at a racetrack to the tune of $2 million, but, ultimately, things do not go as planned.
The film utilises a documentary style to present realism (which counters the unconvincing sets) and it's rather apparent that the film was inspired by Jules Dassin's Rififi (qv) and the films of John Huston.
It's not amongst the director's best works, but it allowed him a good foothold in the industry to go on and make his more famous works.
7/10