The Karate Kid (film series)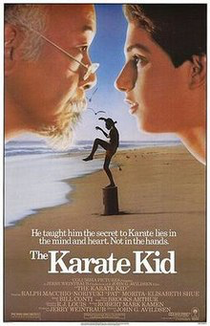 THE KARATE KID (15)
Columbia/Delphi (Jerry Weintraub)
Ed: Bud Smith & Walt Mulconery
Ralph Macchio (Daniel), Noriyuki 'Pat' Morita (Mr. Miyagi), Elisabeth Shue (Ali), Martin Kove (Kreese), Randee Heller (Lucille), William Zabka (Johnny), Ron Thomas (Bobby), Rob Garrison (Tommy), Chad McQueen (Dutch)
A perfect example of a guilty pleasure movie from the director of Rocky (qv), utilising the same formula of an underdog aiming for personal glory.
Ralph Macchio plays Daniel, the new kid in a small town who becomes the target of bullies at his new school. He chooses to join the local karate school, but those same bullies are already members, so Daniel gets help from the most unlikely of people, a timid Japanese gardener, Mr. Miyagi (Morita), who uses unconventional methods to teach the martial art form and prepares Daniel to compete with the school bullies at the upcoming championships.
It's pure cheese, but had a lasting legacy which produced two sequels as well as a 21st century remake, as well as inspiring children everywhere to take up the sport.
"Wax on, wax off" became one of the classic sound bites of the 1980's.
7/10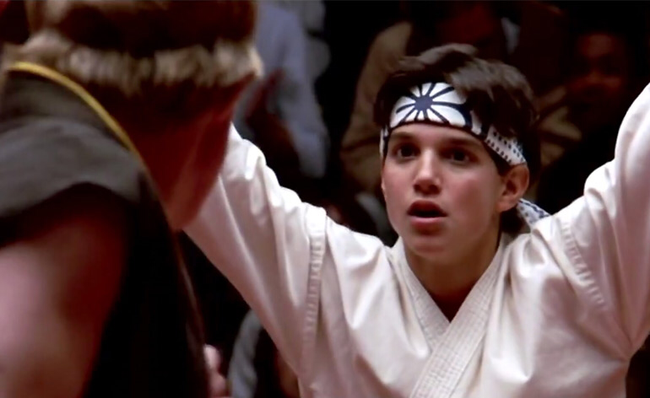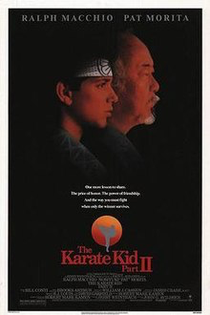 THE KARATE KID part II (15)
Columbia/Delphi (Jerry Weintraub)
Ed: David Garfield, Jane Kurson & John G. Avildsen
Ralph Macchio (Daniel LaRusso), Noriyuki 'Pat' Morita (Mr. Miyagi), Nobu McCarthy (Yukie), Tamlyn Tomita (Kumiko)
Cash-in sequel to the 1984 box office smash, taking Daniel and his teacher Mr. Miyagi East to Okinawa, Japan where the latter's father is terminally ill and there are old scores to settle (with violence).
While the first film was cheesy fun, this is simply tedious. Peter Cetera's end title song ("Glory Of Love") is the only thing really worth watching the movie for, and you have to suffer for approximately 110 minutes to get it.
4/10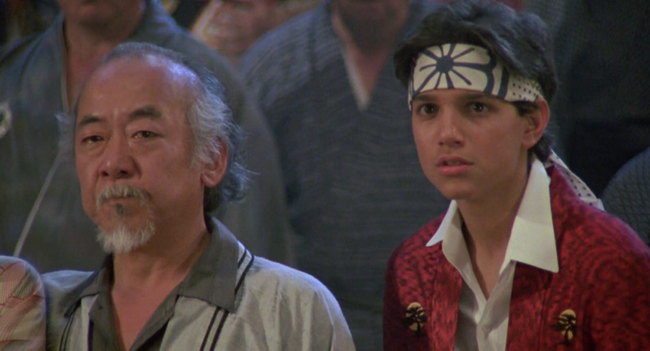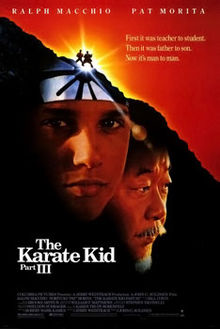 THE KARATE KID part III (15)
Columbia (Jerry Weintraub)
Ed: John Carter & John G. Avildsen
Ralph Macchio (Daniel LaRusso), Noriyuki 'Pat' Morita (Mr. Miyagi), Robyn Lively (Jessica Andrews), Thomas Ian Griffith (Terry Silver), Martin L. Kove (John Creese), Sean Kanan (Mike Barnes), Jonathan Avildsen (Snake)
Even less entertaining than part II, which in itself was a blatant cash-in, this third part to the series of films recycles the same plot from the original movie, as the owner of the dojo whose students were beaten at the championships in the 1984 film seeks his revenge. Mr. Miyagi is clearly fed up in this one (aren't we all), refusing to train Daniel who begins to use a different trainer, unaware that he's a friend of the bad guy and plans to double-cross him.
This poor carbon copy expect the audience to care more about Bonsai trees than about human interest (of which there is very little).  
3/10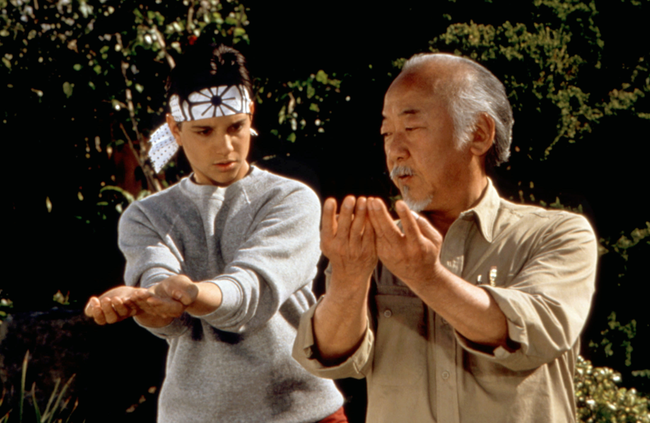 THE NEXT KARATE KID (PG)
Columbia (Jerry Weintraub)
W: Mark Lee [based on characters created by Robert Mark Kamen]
Noriyuki 'Pat' Morita (Mr. Miyagi), Hilary Swank (Julie Pierce), Michael Ironside (Col. Paul Dugan), Constance Towers (Louisa Pierce), Chris Conrad (Eric McGowen)
The formula from the original trilogy gets a gender switch as Mr. Miyagi teaches a bullied schoolgirl how to be a karate ace so she can gain some self respect following the death of her parents. It's practically a retread of the first movie, and although it has the best intentions, the formula is feeling very tired at this point.
Hilary Swank delivers a performance that put her on the showbiz map but Noriyuki 'Pat' Morita looks tired of playing the same character yet again.
4/10