Kubo & The Two Strings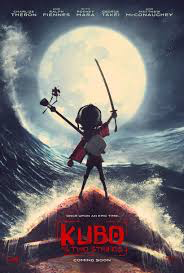 KUBO & THE TWO STRINGS (PG)
D: Travis Knight
Focus Features/Laika (Travis Knight & Arianne Sutner)
US 2016
102 mins
Animated
W: Marc Haimes & Chris Butler
Mus: Dario Marianelli
voices of: Art Parkinson (Kubo), Charlize Theron (Sariatu / Monkey), Matthew McConaughey (Hanzo / Beetle), Ralph Fiennes (Raiden), Rooney Mara (Karasu / Yukami), George Takei (Hosato)
Some might mistake Kubo & The Two Strings as a Japanese produced anime film from the promotional material, and though the story takes root in ancient Japan, the film is produced by American production studios Laika, who previously brought films like Coraline and Paranorman to the big screen.
The story revolves around Kubo, a one-eyed boy with magical powers which revolve around his shamisen musical instrument, which can bring origami figures to life.
He is pursued by his two evil aunts and wizard grandfather, who tries to steal Kubo's other eye to prevent the boy from seeing into people's souls. When his mother is murdered, Kubo is assisted by a talking monkey and a samurai beetle, on a quest to find an unbreakable sword and protective armour, so he can defeat the evil spirits which haunt him.
The most impressive factor of Kubo & The Two Strings is the stop-motion animation, which is the best I've personally ever seen, while the story does present a heartwarming message about the importance of personal memories, especially surrounding family, which are deemed to be the greatest magic of all.
7/10