Kramer vs Kramer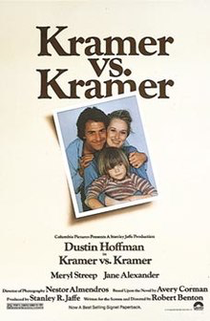 KRAMER VS. KRAMER (PG)
D: Robert Benton
Columbia (Stanley R. Jaffe)
W: Robert Benton [based on the novel by Avery Corman]
Dustin Hoffman (Ted Kramer), Meryl Streep (Joanna Kramer), Jane Alexander (Margaret Phelps), Justin Henry (Billy Kramer), Howard Duff (John Shaunessy), George Coe (Jim O'Connor), JoBeth Williams (Phyllis Bernard)
Kramer vs Kramer is possibly the first mainstream Hollywood film to deal with the subject of divorce and its effects on young children, as estranged husband and wife Ted & Joanna Kramer separate and fight for custody of their young son, Billy.
Ted tries his best to juggle caring for his boy whilst maintaining his position at a high-end New York advertising firm, struggling to do both at first before settling into a routine through the help of a female neighbour. 
The film does a wonderful job depicting a strong father figure who has to take up the role of both parents, but also shows sympathy towards the mother, stuck in a loveless marriage in which it tore her apart to leave for the sake of her son.
Dustin Hoffman & Meryl Streep are both excellent and the film carries a lot of emotional weight, as well as having a few lighter, tender moments which are particularly memorable.
9/10