Kiss Kiss Bang Bang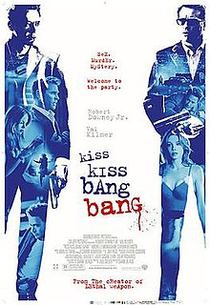 KISS KISS BANG BANG (18)
Warner Bros. (Joel Silver)
Robert Downey, Jr. (Harry Lockhart), Val Kilmer (Gay Perry), Michelle Monaghan (Harmony Faith Lane), Corbin Bernsen (Harlan Dexter), Dash Mihok (Mr. Frying Pan)
Robert Downey, Jr. steals this movie!! 
He plays a petty thief who is mistaken for an actor & given the assignment of going on a routine errand with Hollywood Private Eye Val Kilmer in order to do some homework on the kind of character he'll be portraying.
The two of them find themselves involved in a real-life mystery, including dead bodies, dismembered fingers and near death experiences.  It's quite similar to writer/director Shane Black's previous movies (The Last Boy Scout, Lethal Weapon) with the right amount of black comedy and acerbic, sarcastic dialogue.
It's no classic, but good fun for fans of action/thriller movies.
6/10