Kingsman (1 & 2)
KINGSMAN: THE SECRET SERVICE (15)
20th Century Fox/Marv/Cloudy/Shangri-La (Adam Bohling, David Reid & Matthew Vaughn)
US/UK 2014 (released 2015)
W: Jane Goldman & Matthew Vaughn [based on the comic book series "The Secret Service" by Mark Millar & Dave Gibbons]
Ed: Eddie Hamilton & Jon Harris
Mus: Henry Jackman & Matthew Margeson 
Colin Firth (Harry 'Galahad' Hart), Taron Egerton (Gary 'Eggsy' Unwin), Mark Strong (Merlin), Samuel L. Jackson (Richmond Valentine), Michael Caine (Chester 'Arthur' King)
Kingsman: The Secret Service may have flown below the radar of some of the more well-marketed films of early 2015, but the lack of more obvious publicity certainly didn't harm its commercial success earlier in the year.
Based on a comic book from the same stable as Kick-Ass, much of the same film production crew brings this comedy-adventure to the big screen, following a group of British secret service agents who are descendants of Arthurian knights.
The film opens with a Kingsman agent being slain during a rescue attempt, thus the need for a new cadet.  Suave Saville Row tailor Harry Hart (aka Galahad) (Colin Firth) thinks foul-mouthed, parkour-practicing Eggsy, a young hoodlum from a seedy council estate, has what it takes to become the next secret agent and enlists him in a rigorous training programme to see if he has the right stuff. In the meantime, a communications tycoon plans on world domination with a nefarious scheme involving his free cellular network to control its users and their aggression.
The story draws on several inspirations, most notably British spy staples like James Bond, the Avengers TV series, and to a lesser extent X-Men, Men In Black & even perhaps something as gritty as Harry Brown.
The comedy throughout is highly amusing, with good performances from young actor Taron Egerton and Colin Firth, whilst Samuel L. Jackson does a good job as a rather cowardly villain with a phobia of blood. 
Some of the visual effects in places seem a little unpolished, but this is made up for by some brilliantly staged choreography during the action set pieces.
Quite possibly the most pleasant surprise of 2015.
7/10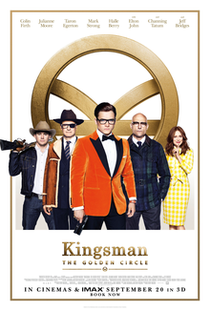 KINGSMAN: THE GOLDEN CIRCLE(15)
D: Matthew Vaughn
20th Century Fox/Marv (Matthew Vaughn, David Reid & Adam Bohling)
UK/US 2017
141 mins
Action/Adventure/Comedy
W: Jane Goldman & Matthew Vaughn [based on characters created by Mark Millar & Dave Gibbons]
DP: George Richmond
Ed: Eddie Hamilton
Mus: Henry Jackman & Matthew Margeson
Taron Egerton (Gary 'Eggsy' Unwin), Colin Firth (Harry Hart / Galahad), Julianne Moore (Poppy Adams), Mark Strong (Merlin), Pedro Pascal (Whiskey), Jeff Bridges (Champagne), Halle Berry (Ginger Ale), Channing Tatum (Tequila), Edward Holcroft (Charlie Hesketh), Hanna Alström (Princess Tilde), Elton John (himself)
The first Kingsman movie was to the spy genre what Kick-Ass was to superhero movies, and was amongst the pleasant surprises of the year when it was released in early 2015. A sequel was inevitable, but alas, this is little more than a cash grab.
Like a Bond film, no time is wasted waiting for the first action set piece, when Eggsy is attacked by rogue applicant Charlie Hesketh, now with a bionic arm, outside the Kingsman tailor shop and secret headquarters. 
Before the first act concludes, all of the Kingsmen except Eggsy and Merlin are bombed at their homes, leaving the two survivors to unite with their American counterparts, the Statesmen, in order to defeat villainess Poppy Adams, a drug dealer who holds the world to ransom when her modified products cause users to suffer blue rashes, paralysis and ultimately death. The good news is that the original Galahad (Colin Firth) is alive and well, because bullet wounds to the head are not fatal (seriously, the film gives us that explanation, so we should just go with it.)
There's a none-too-subtle allegory for the Trump presidency shoved down our throats before the Kingsmen and Statesmen get to work. 
Though the action set pieces maintain interest of this spy spoof, the humour is nowhere near as funny as the original film and the suspension of disbelief requires a little too much from the audience. Some cameos are wasted entirely, such as Channing Tatum, who barely gets 10 minutes screentime, and Elton John, playing himself to embarrassingly unfunny levels with what is, frankly, a one-joke part.
There are some good scenes, but the overall film is a bit of a mess which doesn't capture the magic of the original film. Disappointing. 
5/10