King Solomon's Mines / Allan Quatermain & The Lost City of Gold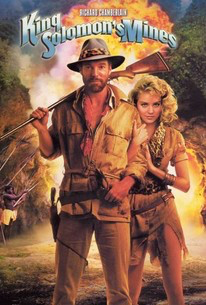 KING SOLOMON'S MINES (PG)
Cannon (Menahem Golan & Yoram Globus)
W: Gene Quintano & James R. Silke [based on the novel by H. Rider Haggard]
Richard Chamberlain (Allan Quatermain), Sharon Stone (Jesse Huston), Herbert Lom (Col. Bockner), John Rhys-Davies (Dogati)
Popcorn and junk food adaptation of H. Rider Haggard's novel, which is much closer to a remake of Indiana Jones movies than to its source material.
An adventurer and his female sidekick hunt for fable treasure which is also desired by a cadre of infamous bad guys, most of which are bad racial stereotypes and the usual movie villain types.
The production values are of the cheapest kind, as usual for Cannon-produced films, who spent the entire decade of the 1980's releasing cack like this. The less said about the performances the better.
4/10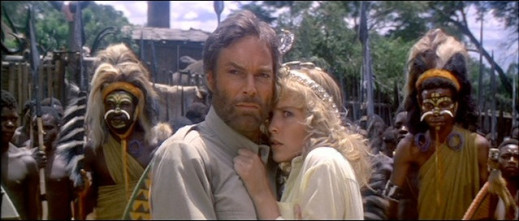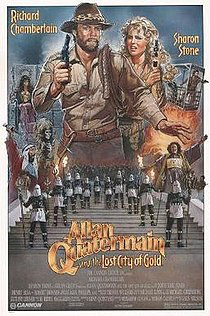 ALLAN QUATERMAIN & THE LOST CITY OF GOLD (PG)
MGM/Cannon Films (Menahem Golan & Yoram Globus)
USA 🇺🇸 1986 (released 1987)
W: Gene Quintano [based on characters created by H. Rider Haggard]
DP: Alex Phillips & Frederick Elmes
PD: Trevor Williams & Leslie Dilley
Richard Chamberlain (Allan Quatermain), Sharon Stone (Jesse Huston), James Earl Jones (Umslopogaas), Henry Silva (Agon), Robert Donner (Swarma)
Sequel to the equally abysmal 1985 version of King Solomon's Mines (also produced by Cannon, who churned out plenty of cheap action-adventure knockoffs throughout the 1980's).  Both films jettison the story of H. Rider Haggard's novels for the more vainglorious opportunity to try and emulate the adventure and characters found in the far more successful Indiana Jones movies. The plot here concerns an intrepid adventurer (Richard Chamberlain) and his shrieking banshee companion (Sharon Stone) journeying through Africa in search of a lost race and their fabled city of gold. 
It fails to deliver any thrills or real entertainment, which is barely a surprise considering it was produced by Cannon Films, whose output during the 1980's was rarely above average.
3/10