King Arthur: Legend of the Sword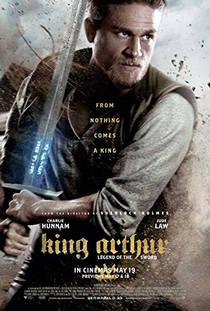 KING ARTHUR: LEGEND OF THE SWORD(12)
D: Guy Ritchie
Warner Bros/Weed Road/Safehouse (Akiva Goldsman, Joby Harold, Tory Tunnell, Steve Clark-Hall, Guy Ritchie & Lionel Wigram)
US/UK/Australia 2017
126 mins
Action/Adventure/Fantasy
W: Joby Harold, Guy Ritchie & Lionel Wigram 
DP: John Mathieson
Ed: James Herbert
Mus: Daniel Pemberton
Charlie Hunnam (King Arthur), Jude Law (Vortigern), Astrid Berges-Frisbey (The Mage), Djimon Hounsou (Sir Bedivere), Aidan Gillen (Goosefat Bill), Eric Bana (Uther Pendragon)
Guy Ritchie brings his East End cheeky chappy style to Arthurian Legend, also throwing in whatever he can magpie from Lord Of The Rings, Game Of Thrones and whatever else he pilfer, all to very poor effect.
Charlie Hunnam is the title character, an orphan who believes he grew up in Londinium, but is actually the son of Uther Pendragon, the previous king who was murdered by his supplanter and he escapes a beheading to lead the people in a revolt against evil king Vortigern.
The clash of styles employed by Guy Ritchie really doesn't work, the dialogue is boisterous, loud and two characters talking about how West Ham United got on at the weekend wouldn't have felt out of place with the filmmaker's Cor Blimey approach. Charlie Hunnam can't deliver a British accent convincingly, despite being British, and the whole film is a complete and utter mess.
Legend of the Sword? More like Legend of the Bored.
2/10