Kind Hearts & Coronets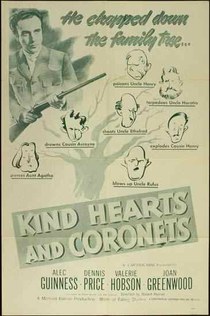 KIND HEARTS & CORONETS (U)
D: Robert Hamer
W: Robert Hamer & John Dighton [based on the novel "Israel Rank" by Roy Horniman]
Dennis Price (Louis Manzini), Valerie Hobson (Edith D'Ascoyne), Alec Guinness (Lord D'Ascoyne / Henry D'Ascoyne / Admiral D'Ascoyne / Ascoyne D'Ascoyne / Lady Agatha D'Ascoyne / Duke of Chalfont), Joan Greenwood (Sibella)
Kind Hearts & Coronets is the film which made Ealing studios synonymous with quality comedy filmmaking in Britain and also gave Alec Guinness a huge step onto the world's stage.
Guinness plays several members of an aristocratic family who are being picked off one-by-one by an impecunious family member, Louis Manzini, who wants to jump the queue to gain nobility.
The plot unravels itself from Manzini's prison cell, as he pens a memoir on the eve of his execution.
The comedy here is far more subtle than in Ealing comedies which followed, but it's still a masterpiece of work which shares a place with The Lavender Hill Mob, The Ladykillers & The Man In The White Suit as the studio's very best.
9/10