Kill Bill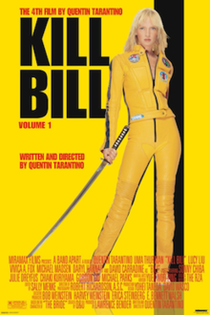 KILL BILL: VOLUME 1 (18)
Miramax/A Band Apart (Lawrence Bender)
W: Quentin Tarantino
DP: Robert Richardson
PD: Yohei Tanada & David Wasco
Uma Thurman (The Bride), Lucy Liu (O-Ren Ishii), Viveca Fox (Vernita Green), Daryl Hannah (Elle Driver), Michael Madsen (Budd), David Carradine (Bill), Michael Parks (Earl McGraw), Sonny Chiba (Hattori Hanzo)
Even writer-director Quentin Tarantino acknowledges this as a work of nonsense, going as far as describing it as "the kind of movie characters from his other screenplays (Pulp Fiction, Reservoir Dogs, True Romance, etc.) would enjoy watching", and that's possibly the best way to describe it. Tarantino blends the elements of film's which have inspired his career to create a fun ode to martial arts and exploitation films of the 1970's.
Uma Thurman plays a nameless character referred to as 'The Bride', who wakes from a lengthy coma to take revenge on the assassins who put her in hospital, ultimately 'killing Bill' a spurned ex-lover who arranged her wedding day ambush.
With the story split into two parts, this first instalment deals mostly with The Bride taking on a female samurai and her cohorts in Japan and leaves the ending open for the adventures to continue in the second film.
7/10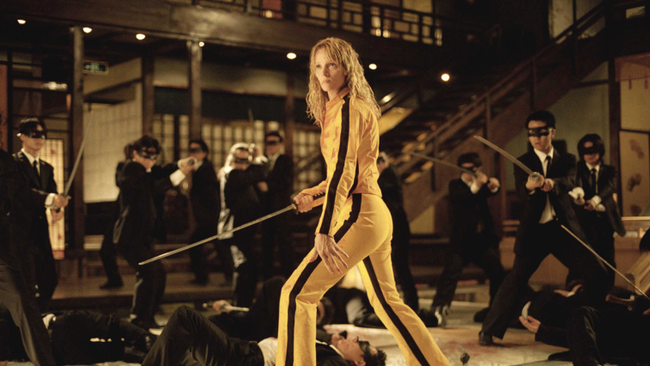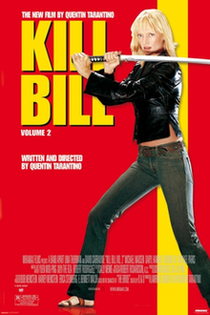 KILL BILL: VOLUME 2 (18)
Miramax/A Band Apart (Lawrence Bender)
W: Quentin Tarantino
Uma Thurman (The Bride), David Carradine (Bill), Michael Madsen (Budd), Daryl Hannah (Elle Driver), Gordon Liu (Pai Mei), Michael Parks (Esteban Vihaio), Perla Haney-Jardine (B.B.), Samuel L. Jackson (Rufus)
The continuation and conclusion of Quentin Tarantino's ode to exploitation films and kung fu flicks of the 70's, with Uma Thurman as vengeful assassin, The Bride.
This second part to the double bill has much less action, focusing instead on the relationships of the characters and the build up to the events in the first film.
Tarantino gives the film great style, with comic book style composition and colours, while the premise is obviously not meant to be taken that seriously. As mentioned in the review for the first film, QT described the films as 'the type of movies that the characters from Pulp Fiction would go to the cinema to watch'. Personally, I think Vincent Vega and Mr. Pink have pretty decent taste.
7/10