Kick-Ass (1 & 2)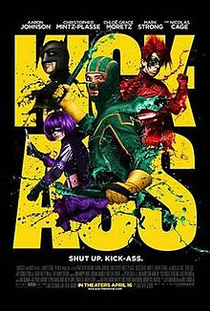 KICK-ASS (15)
Universal/Lions Gate/Marv/Plan B (Matthew Vaughn, Brad Pitt, Kris Thykier, Adam Bohling, Tarquin Pack & David Reid)
W: Jane Goldman & Matthew Vaughn [based on the comic book by Mark Millar & John Romita, Jr.]
Ed: Pietro Scalia, Jon Harris & Eddie Hamilton
Mus: John Murphy, Henry Jackman, Marius de Vries & Ilan Eshkeri
Aaron Taylor-Johnson (Dave Lizewski / Kick-Ass), Christopher Mintz-Plasse (Chris D'Amico / Red Mist), Chloë Moretz (Mindy MacReady / Hit Girl), Mark Strong (Frank D'Amico), Lyndsy Fonseca (Katie Deauxma), Nicolas Cage (Damon MacReady / Big Daddy)
Like 1999's Mystery Men (qv), this takes superhero parody to a whole new level.
Based itself on a lesser known comic book character, it features a geeky high school student in a crime-ridden city, who decides to don a scuba-diving suit to take on the bad guys, only to discover he's bitten off way too much than he can chew, only to be saved and unite forces with a former cop who dresses up like Batman and his foul-mouthed daughter.
Its tongue firmly in-cheek with spoof, twisted humour and homage to other films and TV shows of the ilk (blatant product placement, etc.) makes it an enormously fun movie to watch, but it wouldn't be for everyone. Avid fans of superhero movies will certainly appreciate the jokes, while the performances of Nicolas Cage & Chloë Moretz steal all the thunder.
7/10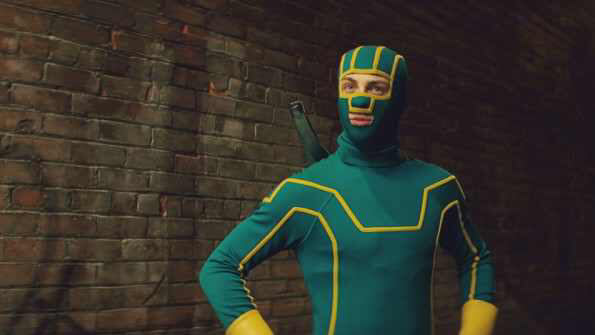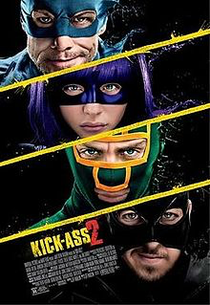 KICK-ASS 2 (15)
Universal/Marv/Plan B (Matthew Vaughn, Brad Pitt, Adam Bohling, Tarquin Pack & David Reid)
W: Jeff Wadlow [based on characters created by Mark Millar & John Romita, Jr.]                                  
Aaron Taylor-Johnson (Dave Lizewski / Kick-Ass), Christopher Mintz-Plasse (Chris D'Amico / The Motherfucker), Chloë Moretz (Mindy MacReady / Hit-Girl), Jim Carrey (Sal Bertolini / Colonel Stars & Stripes), John Leguizamo (Javier), Clark Duke (Marty Eisenberg / Battle Guy), Morris Chestnut (Det. Marcus Williams)
The satire from the first film has gone but the characters & over the top violence remain in this sequel which isn't nearly as good as the first movie, but isn't altogether that bad either. 
Dave/Kick-Ass is still a high school student by day and vigilante superhero by night, but he's grown up and not so geeky in this. Mindy/Hit Girl is also grown up and going through puberty, leading to a huge segment of this film feeling like outtakes from Mean Girls. It does make for one of the movies funnier moments though.
The story mostly follows Chris/Red Mist, seeking revenge for his father's death as he vies to become the ultimate super-villain (The Motherfucker) and hires an army of costumed baddies to achieve this, in turn forcing Kick Ass to form his own cadre.
As far as sequels go, this isn't by any means terrible, but it lacks the freshness of the first film, misses Nicolas Cage's character and with Hit Girl grown up, it's not shocking or funny when she uses the C-bomb like it was the first movie.  I personally think Mystery Men (qv) was a better movie and it's a shame it went under the radar when it was released.
5/10