Keanu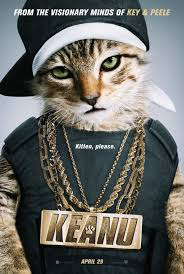 KEANU (15)
Warner Bros/New Line/RatPac-Dune/Monkeypaw (Jordan Peele, Keegan-Michael Key, Peter Principato, Paul Young & Joel Zadak)
W: Jordan Peele & Alex Rubens
Mus: Steve Jablonsky & Nathan Whitehead 
Keegan-Michael Key (Clarence / Smoke Dresden), Jordan Peele (Rell / Oil Dresden), Tiffany Haddish (Trina 'Hi-C' Parker), Method Man (Cheddar), Jason Mitchell (Bud), Luis Guzman (Bacon Diaz)
It's best to watch Keanu with as little knowledge about it as possible, as although the plot is a new kind of ludicrous, the film still manages to be incredibly funny.
The title refers to a cute kitten who escapes a drug den and gets to become in the possession of slacker stoner, Rell, who happens to adore the animal.
When the cat is stolen by rivals, Rell and his cousin Clarence pose as drug dealers to infiltrate the gang and take Keanu back.
The more you think about the story, the stupider it becomes, but so what? There's a very cute cat in this film and that's good enough for me.
6/10