Kagemusha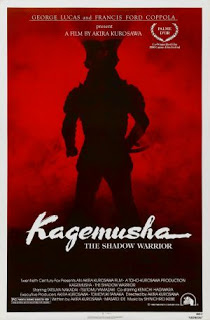 KAGEMUSHA (THE SHADOW WARRIOR)  (PG)
D: Akira Kurosawa 
20th Century Fox/Toho (Akira Kurosawa)
W: Akira Kurosawa & Masato Ide
DP: Takao Saito, Shoji Ueda, Kazuo Miyagawa & Asakazu Nakai
PD: Yoshiro Muraki
Tatsuya Nakadai (Shingen Takeda / Kagemusha), Tsutomu Yamazaki (Nobukado Takeda), Kenichi Hagiwara (Katsuyori Takeda), Kota Yui (Takemaru), Hideo Murata (Baba)
Akira Kurosawa's samurai epic begins in 16th century war-torn Japan, a petty thief is hired as the double of a samurai warlord and upon the warlord's death, must stand in his place to keep the army's morale from dying.
Kurosawa's movies were a huge influence to George Lucas and Star Wars, to which Lucas stumped up some of the cash to co-produce this movie. 
At nearly 3 hours long it's a difficult slog to get through and doesn't hold interest as well as the director's best work (The Seven Samurai), but the film is alive with colour, great costumes and spectacular visuals as well as staying faithful to the traditionalism, honour and loyalty of the samurai way.
Many scenes are hypnotically inert, but when the battles scenes do come, they are well worth the wait.
8/10