The Judge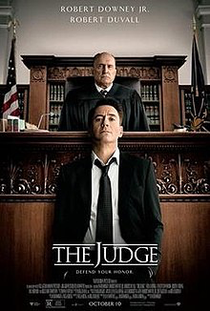 THE JUDGE (15)
Warner Bros/Village Roadshow (Susan Downey, David Gambino & David Dobkin)
W: Nick Schenk & Bill Dubuque
Mus: Thomas Newman
Robert Downey, Jr. (Hank Palmer), Robert Duvall (Joseph Palmer), Vera Farmiga (Sam Powell), Vincent D'Onofrio (Glen Palmer), Jeremy Strong (Dale Palmer), Billy Bob Thornton (Dwight Dickham)
Judge Joseph Palmer (Robert Duvall) and his lawyer son Hank (Robert Downey, Jr.) have always endured a fractious relationship, made even more tetchy when Hank returns home for his mother's funeral.  
While back in his hometown, the belligerent judge finds himself arrested for a hit-and-run murder and his best chance to escape a prison term is to allow his son to represent him and to possibly admit to health problems which could potentially bring his recent judicial decisions into question.
While Robert Duvall's performance is excellent, the rest of the talented cast don't really stand out, and the plot feels mawkish, sentimental and formulaic. Manipulative Oscar-bait, which would have completely disappeared beneath the radar had it not been for Robert Duvall's scene-stealing turn.
6/10