Jurassic Park (film series)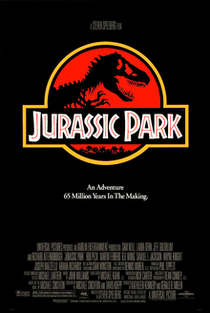 JURASSIC PARK (PG)
Universal/Amblin (Kathleen Kennedy & Gerald R. Molen)
Adventure/Science Fiction
W: Michael Crichton & David Koepp [based on the novel by Michael Crichton]
Mus: John Williams
Sam Neill (Dr. Alan Grant), Laura Dern (Dr. Ellie Satler), Jeff Goldblum (Dr. Ian Malcolm), Richard Attenborough (John Hammond), Bob Peck (Robert Muldoon), Martin Ferrero (Donald Gennero), Joseph Mazello (Tim Murphy), Ariana Richards (Alexis Murphy), Wayne Knight (Dennis Nendry)
Steven Spielberg re-crowned himself king of the box office when Jurassic Park hit the screens in 1993, knocking his own E.T. off the perch of the most profitable films of cinema history.
From Michael Crichton's novel, it's virtually the same plot as the same writer's Westworld. An eccentric millionaire invites a small group of scientists (& his own grandchildren) to be the first visitors to his dinosaur-themed park, featuring real life specimens of even the most dangerous prehistoric creatures.
Everything goes to pot however when there's a power outage, allowing the dinosaurs to run riot, making lunch of the island's guests.
The visual effects are amongst the very best in cinema history and made a real breakthrough for both animatronics and computer animation. Unfortunately the film's weakness comes from it's storyline. There's so many goofs, geographical errors and plotholes that the movie could be the basis for a decent drinking game. It does still remain the best out of the series of films, but only because it's a visual feast of amazing special effects.
8/10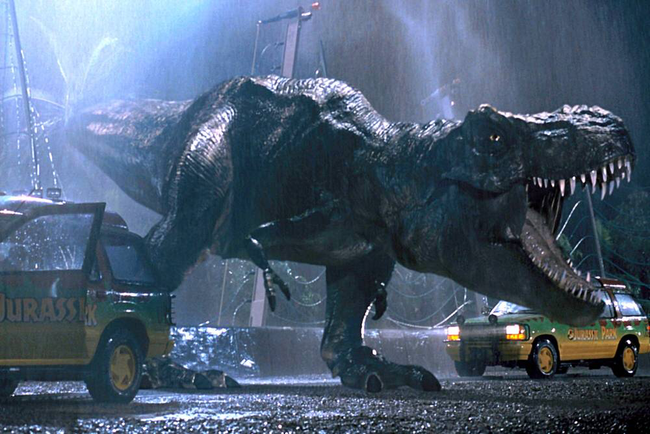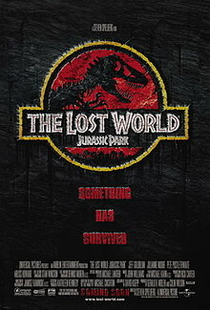 JURASSIC PARK: THE LOST WORLD (aka THE LOST WORLD: JURASSIC PARK) (PG)
Universal/Amblin (Gerald R. Molen & Colin Wilson)
Adventure/Science Fiction
W: David Koepp [based on the novel "The Lost World" by Michael Crichton]
Jeff Goldblum (Dr. Ian Malcolm), Julianne Moore (Dr. Sarah Harding), Pete Posthelthwaite (Roland Tembo), Arliss Howard (Peter Ludlow), Vince Vaughn (Nick Van Owen), Peter Stormare (Dieter Stark), Vanessa Lee Chester (Kelly Curtis), Richard Attenborough (John Hammond)
A tribute to King Kong would be the kindest thing to say about this sequel. In fact, replace the dinosaurs with a giant ape and that's all this film is- a remake. It's not even apologetic about it and even makes reference to the classic 1933 adventure on more than one occasion.
Lessons weren't learnt from the first Jurassic Park, in fact, to build the theme park, the dinosaurs were bred on a completely different island, and that's where this film takes us, as a jackass businessman plans to capture a Tyrannosaurus Rex and transport it back to America. Absolute genius. 
Unfortunately, this man is not the most irritating character in the film, this accolade goes to Vanessa Lee Chester, who plays Jeff Goldblum's daughter, who is capable of high-kicking a velociraptor to death following a gymnastics display which goes on for way too long.
The film has moments which will have you rolling your eyes in disbelief, but the thing with Steven Spielberg is, no matter how stupid his films can sink, they're always quite entertaining, and this is certainly no different.
There's a few moments which defy belief that this film managed to sneak through censors with a PG rating, but once again, that seems to be Spielberg's magic touch.
6/10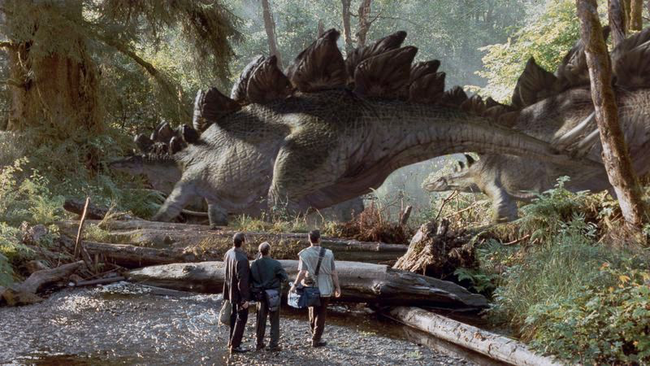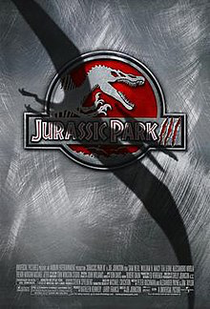 JURASSIC PARK III (PG)
Universal/Amblin (Kathleen Kennedy & Larry Franco)
W: Peter Buchman, Alexander Payne & Jim Taylor 
Sam Neill (Dr. Alan Grant), William H. Macy (Paul Kirby), Téa Leoni (Amanda Kirby), Alessandro Nivola (Billy Brennan), Trevor Morgan (Eric Kirby), Michael Jeter (Udeski)
More original than The Lost World (which was virtually a King Kong remake) but it's very telling that a switch of director was made for this film, which sees a small group crashland their aeroplane on the dinosaur infested island when a couple are trying to find their missing son. The film suffers heavily due to the fact that it's almost impossible to care about the characters and whether or not they buy it.
Alessandro Nivola is especially annoying and most certainly one of the characters you wouldn't mind getting chomped, but without doubt the performance of Téa Leoni is the worst. She may even leave you wishing there was a 3D version of the film so you could slap her for being such a doxy.
In comparison to the first two films, the special effects are quite poor, but still even the most unconvincing dinosaur is an improvement on the terrible performances. It has enough adventure and thrills to sustain the running time, but this is by far the worst of the Jurassic Park movies (until Jurassic World: Fallen Kingdom at least).
5/10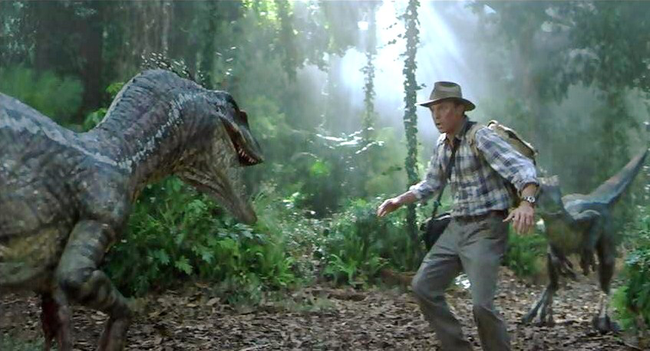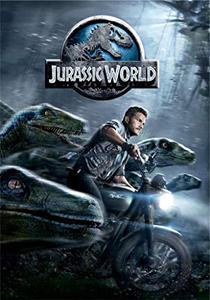 JURASSIC WORLD (12)
Universal/Amblin/Legendary (Frank Marshall & Patrick Crowley)
Adventure/Science Fiction
W: Rick Jaffa, Amanda Silver, Derek Connolly & Colin Treverrow
Chris Pratt (Owen Grady), Bryce Dallas Howard (Claire Dearing), Vincent D'Onofrio (Vic Hoskins), Ty Simpkins (Grey Mitchell), Nick Robinson (Zach Mitchell), Omar Sy (Barry), B.D. Wong (Dr. Henry Wu), Irrfan Khan (Simon Masrani)
It would seem that lessons weren't learned from the previous three films so a Jurassic World theme park has opened to the public on the same site from the very first film, the reasons for this are because money is the root of all evil.
The tourist attraction is running at a loss, mostly because it looks like a zoo, albeit with dinosaurs, but it's still a zoo, a tourist attraction which is struggling to meet overheads because kids use the internet nowadays when they want to see what a lion looks like, or whatever.
The quest for more profits are spearheaded by a repugnant careerist, whose brainchild is to create a dinosaur which can cloak its movements, hence making it the most dangerous creature on earth. She must have skipped the day at business school when they taught common sense.
During a weekend when her nephews come to visit, the monster breaks loose, killing everything in its path as it makes its way to the most populous part of the island, where a smorgasbord of gormless tourists lie in wait.
To stop the beast, she asks a raptor trainer (seriously, the park has these), a cross between Tarzan and Doctor Dolittle, who she has a bit of history with, foreshadowing the plot device that, at some point in the movie, these two are getting together, and who'd blame him, the only other woman on the entire island spends every minute of life talking on her cell phone.
Jurassic World is a sequel with major flaws. The biggest one being that the characters are so stupid that it's almost impossible to care what their chances of survivability are. The only character with an ounce of credibility is the Raptor-trainer Chris Pratt, who has clearly been cast as an audition to be the new Indiana Jones (sigh).
All the supporting characters are virtually made out of cardboard, including Omar Sy, who might as well be a lion tamer walking around in the background and Vincent D'Onofrio, a villain with a motive so brainless that it's inevitable that he'll reap what he sows.
There's plenty of nods, winks and references to the first Jurassic Park film, which this is clearly aspiring to be with practically every swell of John Williams' memorable music score, but the story completely lacks credibility, even with a plot involving a dinosaur-theme park. 
It's a critic-proof film though, people will watch it for the special effects, the majority of which are quite impressive, but they still don't mask over the giant holes in the plot. Still, it will be enjoyed if you ignore how stupid it all is (which isn't at all to say that it's a film for stupid people).
5/10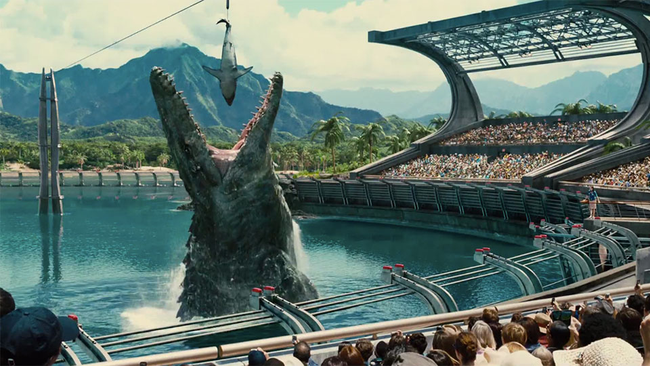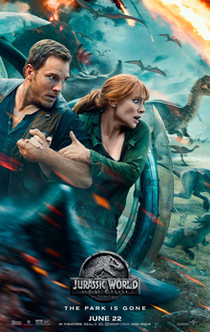 JURASSIC WORLD: FALLEN KINGDOM (12)
D: J.A. Bayona 
Universal/Amblin/Legendary (Frank Marshall, Patrick Crowley & Belen Atienza)
US 2018
128 mins
Adventure/Science Fiction
W: Colin Treverrow & Derek Connolly [based on characters created by Michael Crichton]
DP: Oscar Faura
Ed: Bernat Vilaplana
Mus: Michael Giacchino
Chris Pratt (Owen Grady), Bryce Dallas Howard (Claire Dearing), Rafe Spall (Eli Mills), Justice Smith (Franklin Webb), Daniella Pineda (Dr. Zia Rodriguez), James Cromwell (Sir Benjamin Lockwood), Toby Jones (Gunnar Eversoll), Ted Levine (Ken Wheatley), Jeff Goldblum (Dr. Ian Malcolm)
If 2015's Jurassic World is considered a weak retread of the original Jurassic Park, then Jurassic World: Fallen Kingdom is an incredibly weak retread of The Lost World, with added stupidity, cringeworthy dialogue and pointless subplots shoved in for good measure.
Bryce Dallas Howard reprises her role as Claire Dearing, the annoying CEO from Jurassic World, except in this film she runs a charity for dinosaur rights (seriously), campaigning for the lives of the various species abandoned on the island site as a volcano threatens a violent eruption that will kill anything left behind. 
She teams up again with old flame Owen Grady, when she accepts an invitation to return to the island to save the dinosaur species, and they are both told that saving a velociraptor is key to their mission.
Cue bad guys who want to bring deadly dinosaurs back to the United States for no other reason except money and the rest of the plot is pretty much paint-by-numbers. 
Director J.A. Bayona, with his background in horror, brings a darker vision to the franchise, and although there are a handful of interesting moments, you're likely to have already seen them in the trailer.
This is easily the weakest of all the Jurassic Park movies, full of irritating characters and terrible dialogue to the point that it's become clear that big Hollywood studio blockbusters are more concerned with having a diverse and inclusive cast rather than having an exciting storyline.
Even Jeff Goldblum is wasted in a cameo role which is completely separate to the main story and one of the (ridiculous) plot twists seems to be wedged in for no reason as it goes absolutely nowhere except to set up yet another sequel.
Definitely one of the worst films of 2018.
3/10