Jungle Fever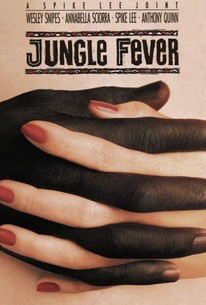 JUNGLE FEVER (18)
UIP/Universal/Forty Acres & A Mule (Spike Lee)
Ed: Sam Pollard & Brunilda Torres
Wesley Snipes (Flipper Purify), Annabella Sciorra (Angie Tucci), Samuel L. Jackson (Gator Purify), Lonette McKee (Drew Purify), John Turturro (Paulie Carbone), Frank Vincent (Mike Tucci), Spike Lee (Cyrus)
Wesley Snipes delivers his finest screen performance as a successful architect who leaves his wife and child to embark on an interracial affair with an Italian-American secretary.
Spike Lee's film portrays a seedy side of life in the ghetto, especially in the scenes featuring Samuel L. Jackson as Snipes' drug-addicted brother.
Stevie Wonder penned all the songs on the soundtrack and it's very well written and directed by Lee. It's just a shame that Snipes went purely into action man roles following his fine work in this sharply observed drama.
7/10