Jumanji (1 & 2)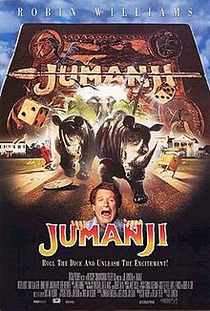 JUMANJI (PG)
Columbia Tristar/Interscope (Scott Kroopf & William Teitler)
W: Jonathan Hensleigh, Greg Taylor & Jim Strain [based on the book by Chris Van Allsburg]
Robin Williams (Alan Parrish), Bonnie Hunt (Sarah Whittle), Kirsten Dunst (Judy Shepherd), Bradley Pierce (Peter Shepherd), Bebe Neuwirth (Nora Shepherd), Jonathan Hyde (Sam Parrish), David Alan Grier (Carl Bentley)
Two children play a mysterious board game that turns their living room into a jungle and invading animals cause all sorts of chaos around the neighbourhood.
Robin Williams saves the day as an expert on the game, stuck inside its fictional jungle world since his childhood.
For young children, this is perfectly entertaining and though it makes absolutely no sense, has enough about it for adults to also enjoy. The special effects vary from decent to unconvincing, the director choosing to have the beasties represented mostly by tacky CGI rather than animatronics which would have made the film far more immersive.
6/10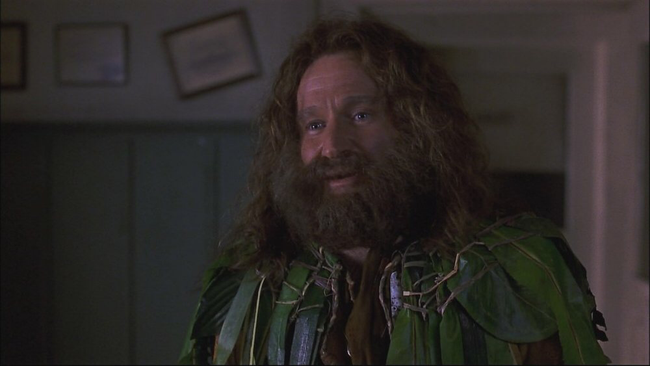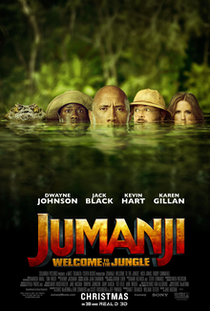 JUMANJI: WELCOME TO THE JUNGLE (12)
D: Jake Kasdan
Sony/Columbia/Radar/Seven Bucks (Matt Tolmach & William Teitler)
US 2017
119 mins
Adventure/Fantasy
W: Chris McKenna, Erik Sommers, Scott Rosenberg & Jeff Pinkner [based on the book "Jumanji" by Chris Van Allsburg]
DP: Gyula Pados
Ed: Mark Helfrich & Steve Edwards
Mus: Henry Jackman
Dwayne Johnson (Smolder Bravestone), Jack Black (Shelly Oberon), Kevin Hart (Franklin 'Mouse' Finbar), Karen Gillan (Ruby Roundhouse), Alex Wolff (Spencer Gilpin), Madison Iseman (Bethany Walker), Ser'Darius Blain (Anthony 'Fridge' Johnson), Morgan Turner (Martha Kaply), Nick Jonas (Jefferson 'Seaplane' McDonough)
As someone who wasn't a huge fan of the 1995 film Jumanji, I wasn't as up in arms as some people were when the news leaked that the adventure would get the 21st century treatment.
This is neither a sequel or remake to the original film, but rather a reboot for the Snapchat generation, who wouldn't have been born when the 1995 film was released. It doesn't continue the story and it doesn't really recycle the same plot device. Instead, it places a group of schoolkids within the environment of a computer game, where the take on the appearance and characteristics of their avatars and need to win the game in order to escape.
The transition of the game from board format to game console is written in quite a lazy way, as is the Breakfast Club set-up where the group of mismatched students discover the game whilst undertaking their punishment. It's in the environment of the game where the fun starts, with a geek taking on the appearance of Dwayne Johnson, the jock becoming the wimpy Kevin Hart, the teen princess finding herself in the body of Jack Black and the shy girl stealing the show as the Lara Croft-esque Ruby Roundhouse.
Better writing could have made this a much better film, but it's still perfectly enjoyable, even though it doesn't have any real ties to the original film or Chris Van Allsburg's book. It honestly could have just been called "Welcome To The Jungle", but Hollywood Studios don't like to gamble, and thus had to have some nostalgia tagged to it in order to make it more successful.
6/10