Judy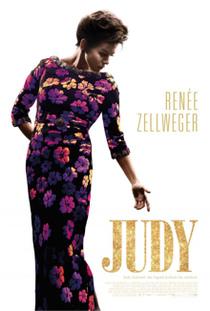 JUDY (12)
D: Rupert Goold
Pathé/BBC/Calamity/Roadside Attractions (David Livingstone)
UK/US 2019
118 mins
Biopic
W: Tom Edge [based on the play "End Of The Rainbow" by Peter Quilter]
DP: Ole Bratt Birkeland
Ed: Melanie Ann Oliver
Mus: Gabriel Yared
PD: Kave Quinn
Cos: Jany Temime
Renee Zellweger (Judy Garland), Finn Wittrock (Mickey Deans), Rufus Sewell (Sidney Luft), Jessie Buckley (Rosalyn Wilder), Richard Cordery (Louis B. Mayer), Bella Ramsey (Lorna Luft)
Renee Zellweger truly shines in this biopic of Judy Garland, in which she embodies the screen legend resplendently, even mimicking the iconic singing voice as she performs on the London stage in the final days of her career.
It was quite well documented how the actress was treated like a product by the studio system, robbed of her childhood as Metro-Goldwyn-Mayer coughed out as many movies as they could while she was still hot property, and though her movies brought joy into the lives of many, she didn't have much joy herself, becoming an alcoholic and addicted to prescription drugs after her cinema heyday.
This film focuses on the last year of her life, struggling to make ends meet and pay to keep custody of her children, she accepts an invitation to perform on a London stage production while fighting her alcohol and drug addictions. 
Like many recent biographical pictures, its biggest drawback is that it skims over the surface, instead of digging its nails in to get beneath the skin, probably because it's easier to make an audience sympathise with this approach, though this comes off as far too contrived and a have-your-cake-and-eat-it tearjerker, despite the excellent work of Zellweger and the rest of the cast.
6/10