Joy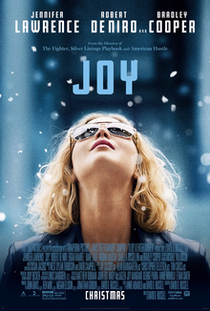 JOY(12)
D: David O. Russell
20th Century Fox/Fox 2000/Annapurna/TSG (John Davis, Megan Ellison, Jonathan Gordon, Ken Mok & David O. Russell)
US 2015
124 mins
Biopic/Drama/Comedy
W: David O. Russell & Annie Mumulo
DP: Linus Sandgren
Ed: Alan Baumgarten, Jay Cassidy, Tom Cross & Christopher Tellefsen
Mus: West Dylan Thordson & David Campbell
Jennifer Lawrence (Joy Mangano), Robert DeNiro (Rudy Mangano), Edgar Ramirez (Tony Miranne), Bradley Cooper (Neil Walker), Diane Ladd (Mimi)
Jennifer Lawrence received an Oscar nomination for her portrayal of Joy Mangano in this biographical comedy-drama about a working class mother with a humble upbringing who went on to become a self-made multi-millionaire due to her invention of a mop which sold in its thousands after featuring on the home shopping network QVC.
Considering most the movie is about a mop, it does manage to stay engaging, despite some issues with the narrative meandering from time to time. 
It's obvious that some of the story has been fancied up and dramatised for cinematic effect, landing somewhere between Erin Brockovich and a rags-to-riches fairytale, but it also crams in some message about feminism and female empowerment, which is immediately dropped when Bradley Cooper's dashing TV executive gives Joy a little push up the stepladder. Thank God for Prince Charming.
Besides some finicky little details, it does end up being a joy to watch.
6/10