Journey to the Center of the Earth (1959/2008)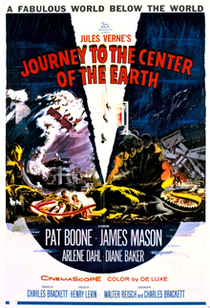 JOURNEY TO THE CENTER OF THE EARTH (PG)
20th Century Fox (Charles Brackett)
Science Fiction/Adventure
W: Walter Reisch & Charles Brackett [based on the novel by Jules Verne]
PD: Lyle Wheeler, Franz Bachelin & Herman A. Blumenthal
James Mason (Prof. Oliver Lindenbrook), Arlene Dahl (Carla), Pat Boone (Alec McEwen), Peter Ronson (Hans), Diane Baker (Jenny), Thayer David (Count Saknussemm)
Enjoyable hokum based on Jules Verne's classic tale. A group of scientists led by James Mason burrow into the centre of the planet via an Icelandic volcano and discover a land inhabited by prehistoric monsters and dinosaurs.
The visual effects and production design were groundbreaking for its time, but naturally look incredibly dated now.
Pat Boone's incessant singing may grate on the ears too. 
6/10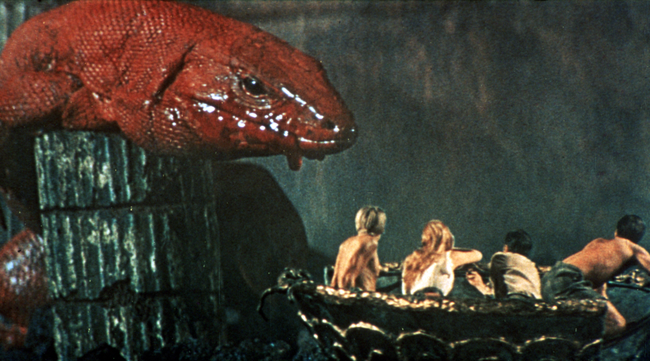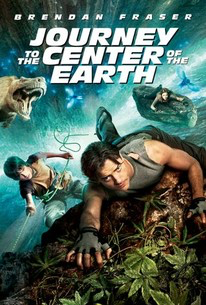 JOURNEY TO THE CENTER OF THE EARTH (PG)
New Line/Walden Media (Beau Flynn & Charlotte Huggins)
Science Fiction/Adventure
W: Michael D. Weiss, Mark Levin & Jennifer Flackett [based on the novel by Jules Verne]
Ed: Paul Martin Smith, Dick Westervelt & Steven Rosenblum
Brendan Fraser (Prof. Trevor Anderson), Josh Hutcherson (Sean Anderson), Anita Briem (Hannah Asgeirson), Seth Meyers (Prof. Alan Kitzens)
Remake of the 1959 film with updated visual effects, production design and without the novelty of Pat Boone's folk singing.
50 minutes shorter than the original film, much has been snipped from Jules Verne's original prose for the sake of intense adventure, and young audience will most certainly prefer this version to the one made five decades earlier.
A sequel, "Journey 2: The Mysterious Island" was released a couple of years later, mysteriously replacing Brendan Fraser as the lead with Dwayne 'The Rock' Johnson
6/10