JFK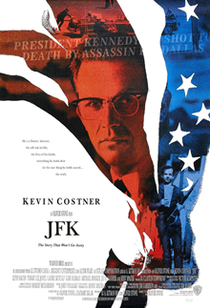 JFK (15)
D: Oliver Stone
Warner Bros./Camelot/New Regency/Canal+/Ixtlan (Oliver Stone & A. Kitman Ho)
W: Oliver Stone & Zachary Sklar [based on the books "On The Trail Of Assassins" by Jim Garrison & "Crossfire: The Plot That Killed Kennedy" by Jim Marrs]
DP: Robert Richardson
Ed: Joe Hutshing & Pietro Scalia
Mus: John Williams
Kevin Costner (Jim Garrison), Sissy Spacek (Liz Garrison), Joe Pesci (David Ferrie), Tommy Lee Jones (Clay Shaw), Gary Oldman (Lee Harvey Oswald), Michael Rooker (Bill Broussard), John Candy (Dean Andrews), Laurie Metcalf (Susie Cox), Kevin Bacon, Jay O. Sanders, Jack Lemmon, Walter Matthau, Donald Sutherland, Gary Grubbs
Everybody loves a little conspiracy when it comes to historical events, and Oliver Stone isn't one to shy away from controversial and contentious issues.
Though his theories into the assassination of John F. Kennedy may be complete fiction and refraction of the truth, he raises some solid arguments in a very engrossing courtroom drama.
Costner stars as real-life DA Jim Garrison, who dedicated years of his life to investigating the shooting of the former US President, uncovering a coup d'état by the CIA to assassinate him because he planned to withdraw American involvement in the Vietnam war, as well as his stance on civil rights.
A very impressive ensemble of actors make this a definitive film from the early 1990's, and though it's length may lean towards bum-numbing, it's well worth watching for Costner's loquacious courtroom monologue, including the "magic bullet theory" and excerpts from the famous Zapruder film.
Let the conspiracy theories begin here.
9/10