Jay & Silent Bob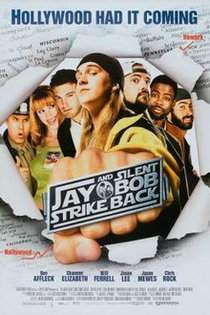 JAY & SILENT BOB STRIKE BACK (18)
Dimension/View Askew (Scott Mosier)
Ed: Kevin Smith & Scott Mosier
Jason Mewes (Jay), Kevin Smith (Silent Bob), Ben Affleck (Holden McNeil / himself), Jeff Anderson (Randal), Eliza Dushku (Sissy), Shannon Elizabeth (Justice), Will Ferrell (Willenholly), Ali Larter (Chrissy), Jason Lee (Brodie / Banky Edwards)
Jay & Silent Bob, two stoner characters who make peripheral appearances in Kevin Smith's previous films (Clerks, Chasing Amy, Dogma), get their own big screen outing in this knockabout comedy, reminiscent of Cheech & Chong's pot-smoking adventures.
Much of the humour is self-referential, so it's recommended to have seen the previous Kevin Smith films (especially Chasing Amy). 
The duo discover that a film is being made, based on comic book characters (Bluntman & Chromic) inspired by the their likeness and, angered by internet criticism, embark on a road trip to Hollywood to sabotage the production.
The road trip itself doesn't require any great knowledge into Kevin Smith's universe, packed with cameo appearances and puerile jokes which see the brainless pair break into an animal laboratory to create a decoy for a diamond heist and the pair become guardians for a stolen orang-utan.
Fans of Kevin Smith films or "dick & fart jokes" will enjoy this much more than other audiences, who'll know whether they'll enjoy it or not from the opening five minutes alone.
5/10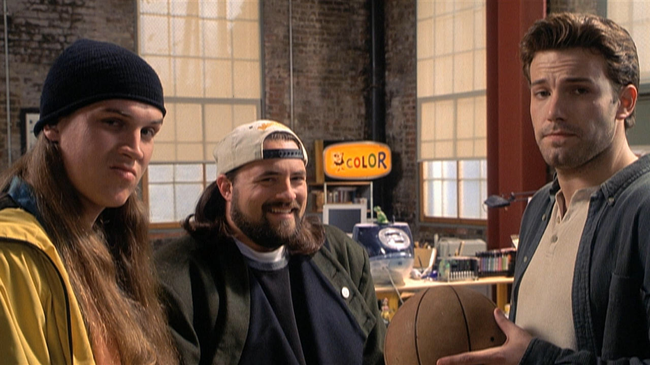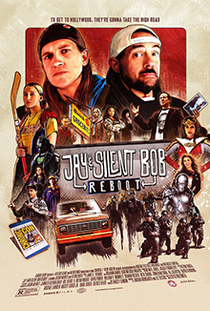 JAY & SILENT BOB REBOOT (15)
D: Kevin Smith
Saban/Miramax/View Askew/SMODCO/Mewesings/Hideout/Intercut Capital/Skit Bags (Jordan Monsanto & Liz Destro)
US 2019
105 mins
Comedy
W: Kevin Smith 
DP: Yaron Levy
Ed: Kevin Smith
Mus: James L. Venable
Jason Mewes (Jay), Kevin Smith (Silent Bob), Harley Quinn Smith (Millennium Faulken), Shannon Elizabeth (Justice Faulken), Brian O'Halloran (Dante Hicks), Jason Lee (Brodie Bruce), Ben Affleck (Holden McNeil), Joey Lauren Adams (Alyssa Jones)
I'll admit that I was a fan of Jay & Silent Bob Strike Back when it was originally released in 2001, the humour appealed to me at the time and it wrapped up a collection of other films that I also thoroughly enjoyed (Clerks, Mallrats, Chasing Amy & Dogma). However, I also agree that time hasn't been kind to the humour in Jay & Silent Bob Strikes Back, and retrospectively, it isn't anywhere near as funny as I once found it.
Kevin Smith tries to replicate the same movie here, both updating it for a new audience and placating his older fanbase, culminating in a self-aware remake, reboot and sequel which pokes fun at Hollywood and references his own movies.
The self-referential humour disappears up its own backside here, and it's really quite sad to see.
Kevin Smith & Jason Mewes may have been able to get away with these shenanigans when they were in their 20's, but they're in their 40's now and this really is scraping the barrel.
I believe that Smith wrote this with the best intentions, allowing him a reunion with some of his closest friends in the biz, but why couldn't he just have a private party instead?
4/10